Why are chillies hot?
Chillies contain a compound called capsaicin, which stimulates pain receptors in the mouth and tongue, causing a sensation of heat and burning. This happens because capsaicin binds to a receptor called TRPV1, which normally responds to heat, and sends signals to the brain that interpret the sensation as pain or heat. Interestingly, some people enjoy the "heat" of chillies, while others find it unbearable. This is because capsaicin also triggers the release of endorphins, which can create a pleasurable sensation for some individuals.
What is capsaicin?
Chillies, also known as hot peppers, contain a compound called capsaicin which is responsible for the burning sensation that they produce. When capsaicin comes into contact with the mucous membranes of the mouth or skin, it binds to a receptor called TRPV1, which is responsible for detecting pain and temperature. This binding triggers a series of chemical reactions that send signals to the brain, resulting in a burning or stinging sensation. Normally, TRPV1 would respond to thermal heat which would illicit an immediate protective response. If a burning hot piece of metal touched any part of our body, we would immediately feel pain and respond by removing ourselves from or dropping the object to prevent further tissue damage.
The amount of capsaicin in a chilli varies depending on the variety and can range from mild to extremely hot. The level of heat in chillies is measured in Scoville units, with higher Scoville ratings indicating a greater concentration of capsaicin. Interestingly, capsaicin is also known to have several health benefits, including pain relief and reducing inflammation.
Chillies aren't the only plants that activate TRPA1, additional exogenous compounds include mustard oil, horseradish, cinnamon and wasabi.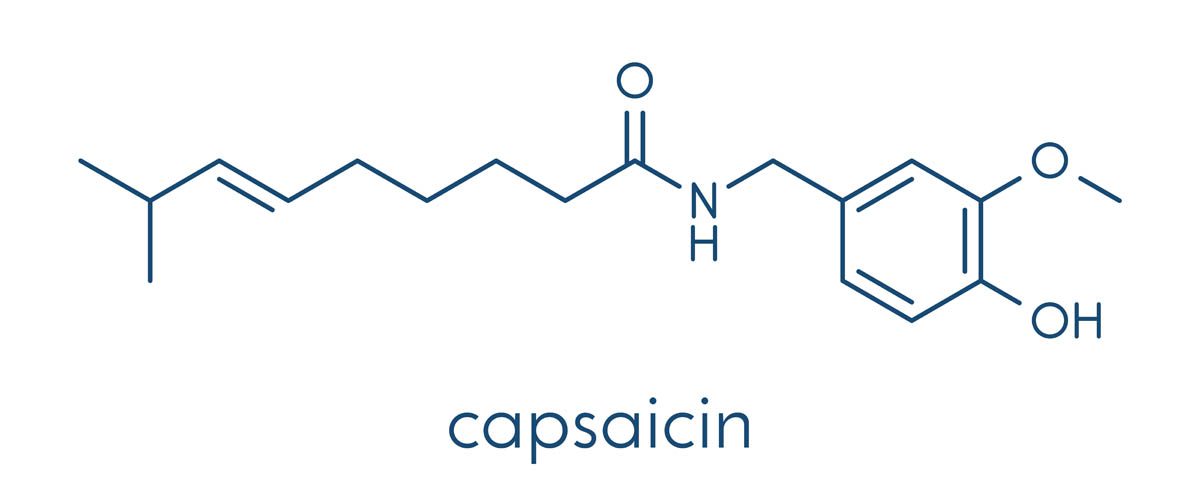 Why do chillies produce capsaicin?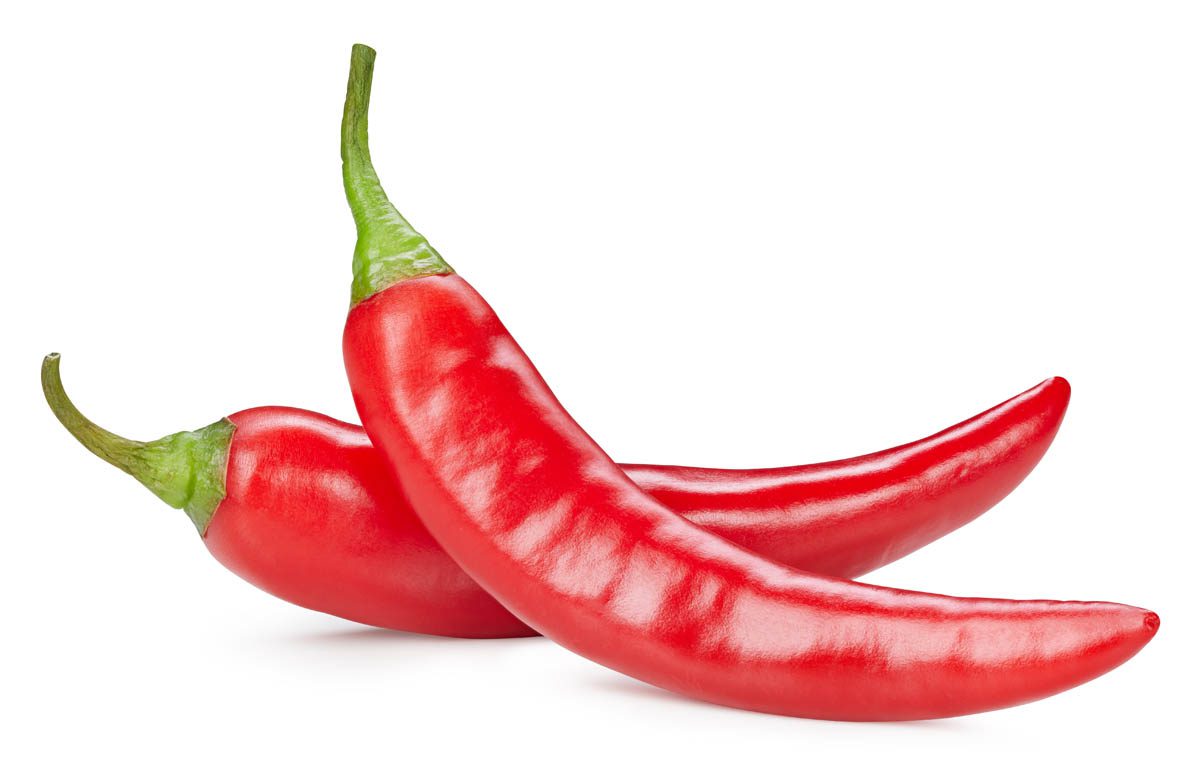 Plants have evolved a number of mechanisms to protect themselves against herbivory. Thorns on roses and blackberries, toxic compounds (phytotoxins) such as alkaloids, glycoalkaloids, solanine, amphiphilic glycosides and cyanogenic glycosides.
Chillies produce capsaicin as a means of defence. When an animal or insect chews a chilli, its strong heat is a deterrent. Ordinarily, this wouldn't make sense as the purpose of fruit (chillies are classed as fruit) is for it to be consumed, which then disperses the seeds elsewhere when they pass out of the body. However, when mammals with teeth chew the chilli pod, the seeds are damaged and unable to germinate. Interestingly, birds have a different heat receptor which doesn't induce a response to capsaicin, therefore they can eat hot chillies without the unpleasant (or pleasant) sensation of heat. As birds have no teeth to grind (and damage) consumed seeds and have a wide range, the seeds are widely distributed as they pass out of the body intact.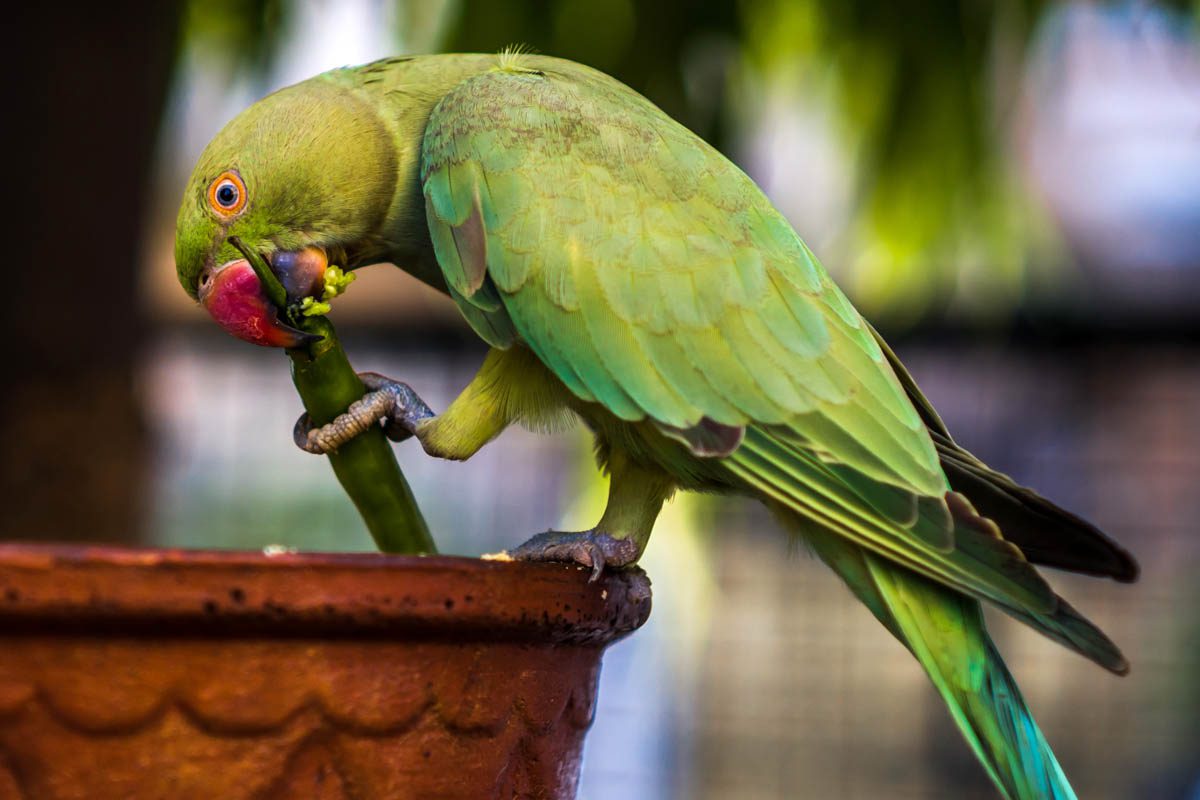 Scientists in Bolivia have come upon a second reason that chillies are hot. Capsaicin hinders the growth of the fungus Fusarium semitectum, which ordinarily would rot the fruit resulting in the death of the seeds within.
Where does the heat come from?
Capsaicin is synthesised in the placenta, the fleshy interior of the chilli pepper where the seeds are located. The placenta is the hottest part of the chilli and not the seeds. The capsaicin glands are located between the placenta and the seeds and are responsible for the production of capsaicin.
Capsaicin production is influenced by genetics as well as the maturity of the fruit. Some chillies produce more capsaicin than others, which is why some peppers are spicier than others. The amount of capsaicin is measured using the Scoville scale, which ranges from 0 (no heat) to over 2 million (extremely hot).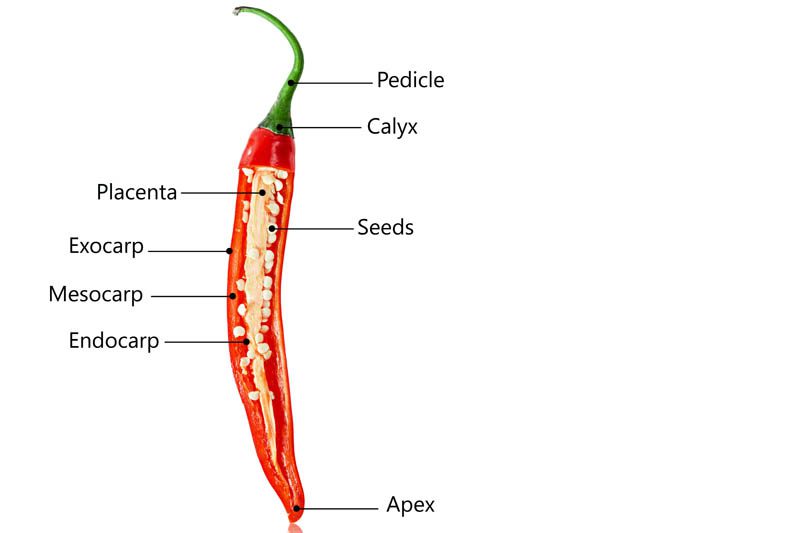 Scoville scale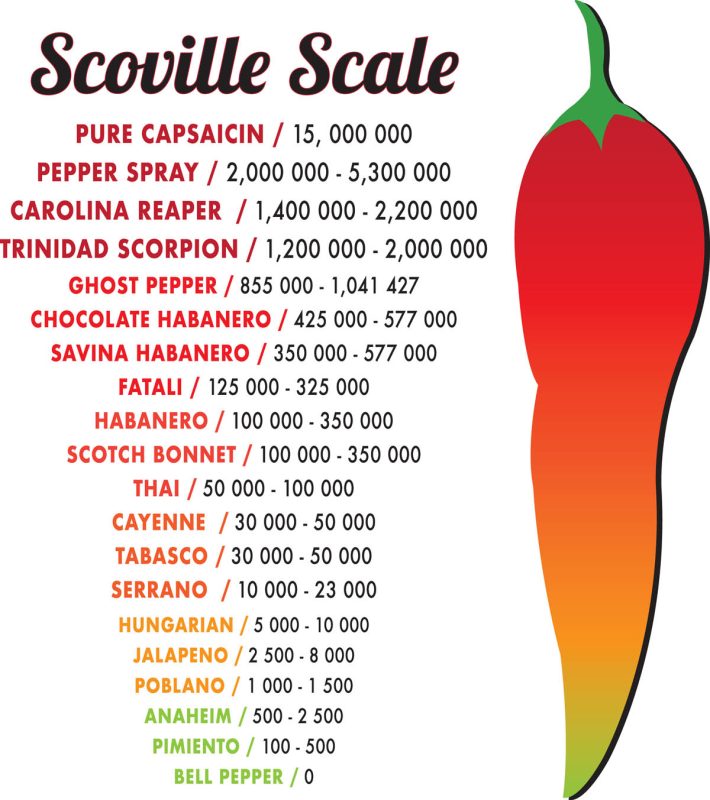 The Scoville scale is a measure of the spiciness of chilli peppers and other spicy foods. It was created by Wilbur Scoville in 1912 and is based on the concentration of capsaicin, the compound responsible for the heat in chilli peppers.
Scoville scales range from 0 (no heat) to over 2,000,000 (extremely hot). The scale is a measure of capsaicin concentration in Scoville heat units (SHU). For example, a bell pepper has a Scoville rating of 0, while a jalapeño pepper has a rating of 2,500 to 8,000 SHU. On the other end of the scale, a habanero pepper can have a rating of 100,000 to 350,000 SHU, and the world's hottest pepper, the Carolina Reaper, has a rating of over 2 million SHU.
How the Scoville scale measures the heat of chillies
Scoville organoleptic test: The original test uses dried chillies dissolved in alcohol to extract the capsaicinoids and then diluted in sugar water. This solution is placed onto the tongue of trained testers and is repeatedly diluted until the tester can no longer detect the heat. The Scoville score is assigned based on the number of dilutions required to eliminate the heat, for example, it will take 2,500 to 8,000 dilutions for Jalapeño for the heat to be removed. This test is not entirely reliable due to the different levels of tolerance people have. For example, I can often not detect chilli in a meal while my adult children are unable to eat it because it is so hot.
High-performance liquid chromatography (HPLC): This advanced test uses a machine to measure the capsaicin in a dried and ground chilli combined with a solvent. The machine measures the levels of compounds in the sample, producing a graph known as a chromatogram.
Why can some people eat hot chillies?
Some people are able to build up a tolerance to the sensation of heat by gradually introducing hotter and hotter chillies. From personal experience, I was extremely sensitive to any foods with the smallest amount of chilli when I was younger, however, even as a child, my brother enjoyed hot food. I have learned to love hot chillies over time, and now grow some of the world's hottest chillies in my garden. I will never be able to eat raw habanero the way my brother does.
The sensation we experience when we eat hot food releases feel-good hormones and natural painkillers known as endorphins. Endorphins are released during sex, after running (runner's high), and in response to pain or stress. In the case of chillies, there is no real danger (in most cases), so we can enjoy the endorphin rush without the danger of a real burn.
How to reduce the burn from a hot chilli
Unfortunately, as capsaicin is hydrophobic (does not mix with water) drinking water is not an effective antidote to the heat from chilli. Milk contains casein, a hydrophobic protein that displaces capsaicin from the sensory receptors.
One test with 72 participants was conducted to test the effectiveness of different beverages in reducing the burn from spicy tomato sauce. The results found: the following in order of effectiveness: 
Whole milk
Kool-Aid
Skim milk
Beer
Cola
Water
Seltzer
Nothing
An unusual case was reported where a woman accidentally inserted a tampon contaminated with pepper spray. She presented to an emergency department in extreme pain. Doctors administered pain relief and removed the tampon. A lidocaine jelly was administered into the vagina using a speculum, followed by a tampon soaked in pasteurised milk. The woman reported a decrease in pain relief within several minutes.
Remember, a little goes a long way. It is always better to start with a small amount of chilli and add more if the heat isn't strong enough. We find adding half a hot chilli to a curry gives a nice heat, but isn't too hot. Adding chillies to raw food such as a salad intensifies the heat as it's not being diluted in any sauce.
Does cooking chilli over a long period reduce the heat?
Cooking over a longer period doesn't make the heat any less or more intense, however, as noted above, when adding chilli to a cooked meal that contains a sauce, the intensity tends to be less due to the distribution of capsaicin throughout the entire meal. If you are eating a meal with slivers of chilli, such as a cooked pizza, you are more likely to experience the heat from the chilli.
How to reduce the intensity of chilli in food

Look for chillies with a lower Scoville rating such as bishop's crown, jalapeno, pepperoncini or banana pepper. You can reduce the heat from hotter chilli varieties by removing the placenta and seeds and using only the outer layers. Although noted below, chillies with a rating of 1 million SHU also have capsaicin present elsewhere, and not just the in placenta and seeds.
What is the hottest chilli in the world?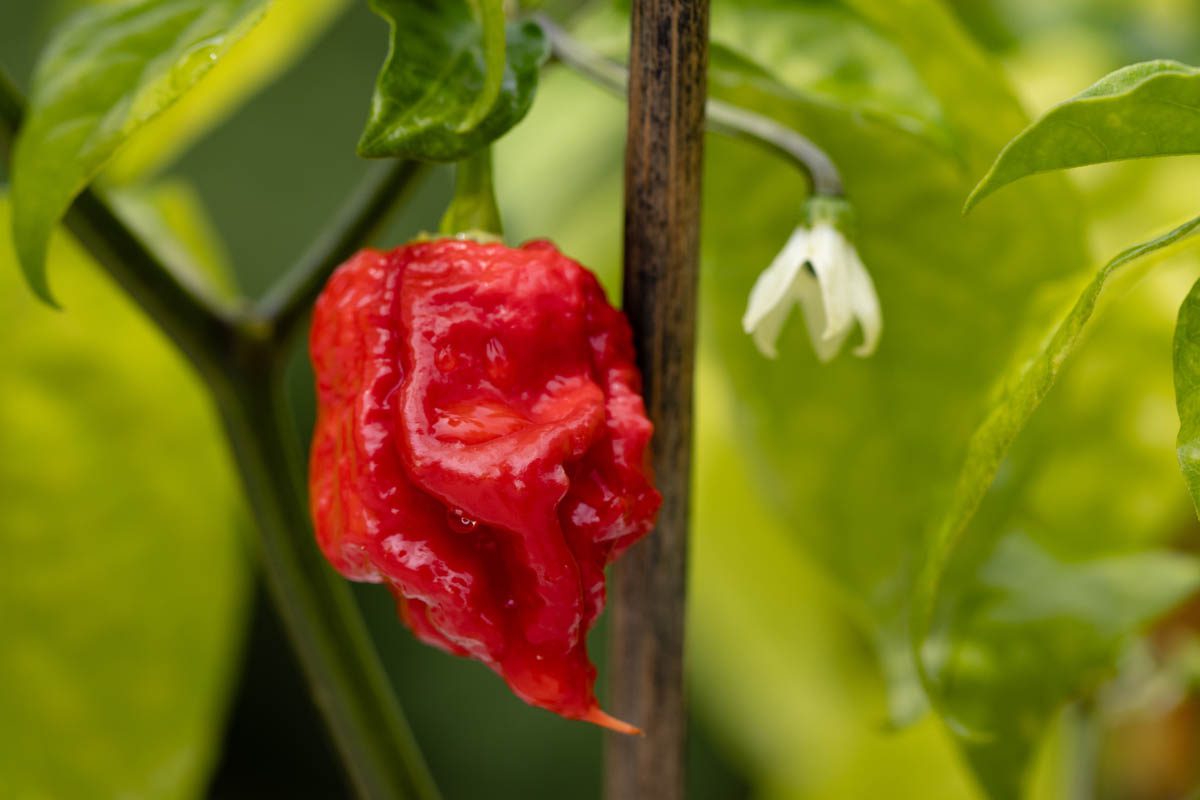 Smokin Ed's 'Carolina Reaper' was officially declared the world's hottest chilli by Guinness World Records on 17th August 2017. The average Scoville heat unit of the Carolina Reaper is 1,641,183. In second place is the Trinidad Moruga Scorpion.
Super hot chillies are chillies with a SHU above 1 million. Unlike milder chillies where the greatest concentration of capsaicin is in the placenta and seeds, the super hot chillies have additional accessorial vesicles on the pericarp tissue.
Handling chilli safely
When handling hot chillies, always wear disposable gloves and glasses. Wash your hands thoroughly afterwards.
Use a knife and fork or food processor when handling chillies to minimize direct contact with your hands.
Wear disposable gloves to avoid getting the oils onto your skin.
Prepare in a well-ventilated area when working with chillies to avoid inhaling the fumes.
Keep a bowl of milk or yoghurt nearby when eating spicy foods to help neutralise the heat.
Avoid touching your eyes, nose or mouth when and after working with chillies.
Wash hands thoroughly after handling chillies.
If you accidentally rub your eyes after handling chilli, flush with sterile eye wash if you have some handy, or plain water. While water is less effective than other methods, it is better than nothing. Do not use milk to flush your eyes. Artificial tears may be used after the eyes have been flushed to relieve pain.
For external exposure, wash the area with shampoo or soap and water (water alone is ineffective). Oil products such as cooking oil or Vaseline will also reduce discomfort.
Julia is a writer and landscape consultant from Wollongong with a love of horticulture. She had been an avid gardener for over 30 years, collects rare variegated plants and is a home orchardist. Julia is passionate about learning and sharing her knowledge of plant propagation and plant toxicology. Whether it's giving advice on landscape projects or sharing tips on growing, Julia enjoys helping people make their gardens flourish.