Also known as ramsons, wild garlic (Allium ursinum) is a bulbous perennial plant native to Europe in Asia. It grows in dense clumps on woodland floors, forming a carpet of white in spring when in flower.
Wild garlic is a versatile plant with many culinary uses from soups to salads and pesto. Its delicate garlic flavour isn't as overpowering as true garlic.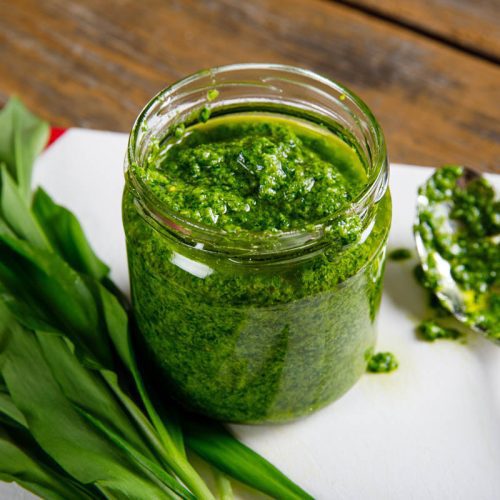 Wild garlic pesto
Quick and easy wild garlic pesto recipe
Ingredients
100

grams

wild garlic leaves

60

ml

olive oil

1

clove

garlic

50

grams

pine nuts (toasted)

salt and pepper to taste
Instructions
Toast the pine nuts in the oven until they're lightly browned

Thoroughly wash wild garlic leaves under cold water and dry them well

Peel and roughly chop the garlic clove

Add the wild garlic leaves, parmesan, toasted pine nuts, and a pinch of salt and pepper to the blender

With the blender running, slowly pour in the olive oil until the mixture becomes smooth

Taste the pesto mixture and adjust the seasoning as needed

Store in an airtight jar in the fridge for up to a week
Notes
Optional extras
Lemon juice
Vegan parmesan cheese
Fresh or dried chilli
Uses
Wild garlic pesto goes well as a simple pasta dish, added to roast vegetables, cooked chicken or salmon, pizza toppings or can be used as a spread on crusty bread.
Julia is a writer and landscape consultant from Wollongong with a love of horticulture. She had been an avid gardener for over 30 years, collects rare variegated plants and is a home orchardist. Julia is passionate about learning and sharing her knowledge of plant propagation and plant toxicology. Whether it's giving advice on landscape projects or sharing tips on growing, Julia enjoys helping people make their gardens flourish.