Rose syrup is a flavoured simple syrup with the addition of fresh or dried rose petals which impart a delicate rose flavour reminiscent of Turkish delight. This quick and easy recipe is versatile and is great in drinks, desserts, cocktails, cakes and buttercream icing.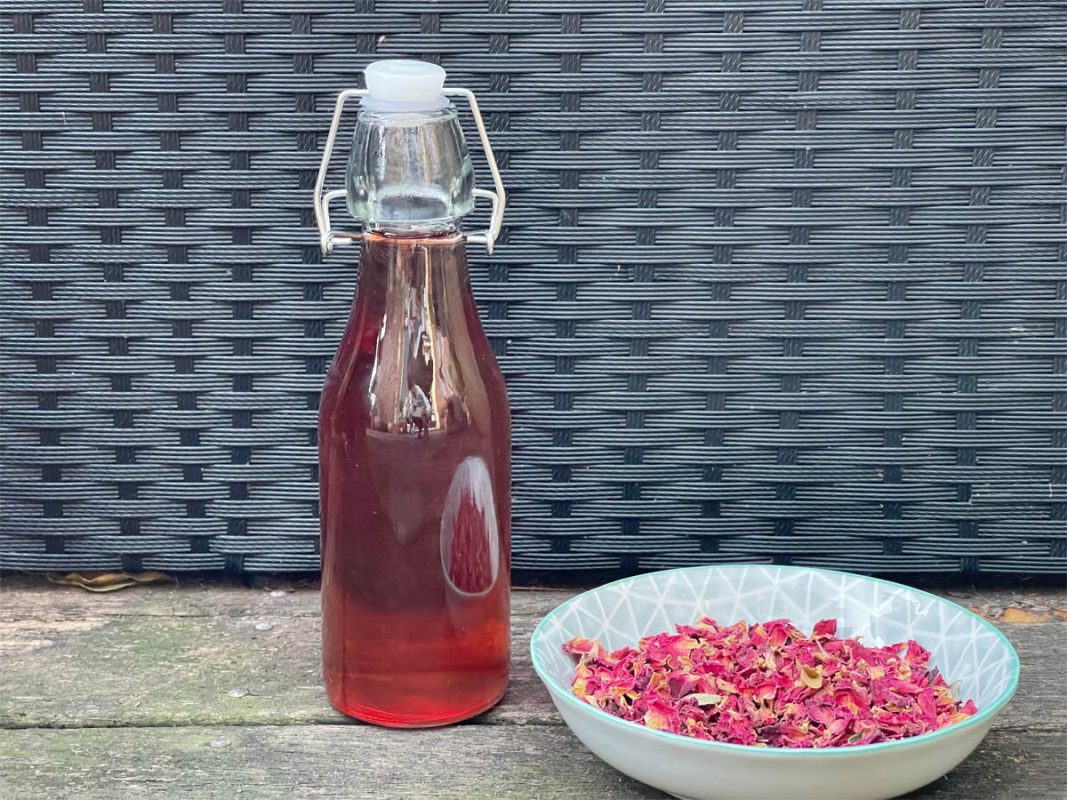 Easy Rose Syrup Recipe
A quick and easy rose syrup using fresh or dried roses. This recipe makes 1 cup (250 ml) of syrup.
Ingredients
1

cup

caster sugar

1

cup

water

1/4

cup

culinary-grade dried rose petals
Instructions
Add all of the ingredients to a pot and simmer, stirring until the sugar has dissolved

Remove from the heat and allow to sit for 20 minutes to allow the flavours to infuse

Strain with a fine-mesh strainer or muslin cloth to remove the rose petals

Decant into a sterilised bottle and store in a refrigerator for up to 2 weeks
Notes
Can use 1/4 cup dried culinary roses instead of fresh
Uses:
Cordials
Cocktails
Champagne/sparkling wine cocktails
Added to gin or vodka
Buttercream frosting
Cakes
Meringues
Milkshakes
Flavoured sparkling water
Ice cream
Tea or coffee flavouring
Jellies
Recipe tweaks:
The addition of blueberries is purely for colour and is not essential.
You can add more or less fresh or dried rose petals according to taste.
Serving size:
Each serve is 2 tablespoons.
Colour:
The photo in the recipe was the actual rose simple syrup along with the rose petals used in the recipe, with no additional colours added. The colour of the rose will affect the colour of the syrup. The lighter the rose, the lighter the colour of the syrup.