Nettles (Urtica dioica) are a common shrub native to Europe and Asia. The plants have heart-shaped leaves and stems that are covered in fine hairs which cause pain, redness and swelling if brushed against.
Nettles have a number of health benefits including anti-inflammatory, antioxidant, analgesic, immunostimulatory, anti-infectious, hypotensive, antiulcer activities and cardiovascular disease prevention.
When foraging for nettles, always wear gloves, a long-sleeved top and long pants to prevent being stung and choose a clean location away from busy roads and pollution.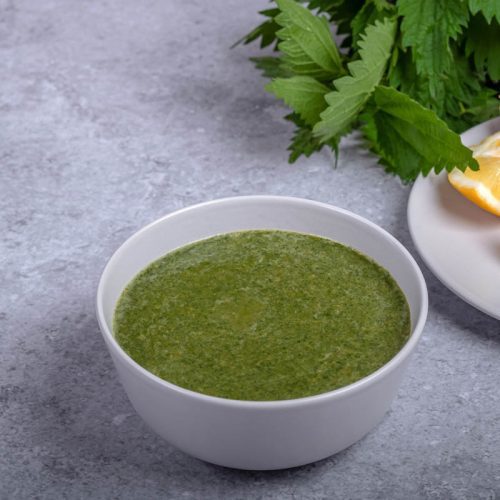 Nettle soup
A quick and easy soup recipe using wild nettle
Equipment
1 Medium saucepan

1 Blender
Ingredients
1

finely chopped white or yellow onion

2

cloves

garlic, minced

1

tbsp

olive oil

1

litre

chicken or vegetable stock

400

grams

stinging nettles, washed, and stems removed

1/3

cup

double cream

1

bay leaf
Instructions
Heat oil in a medium-sized saucepan and add the garlic and onion, cook until golden.

Rinse the nettle leaves thoroughly and remove any tough stems, set aside.

Add the nettle leaves to the pot and cook for 2-3 minutes, stirring occasionally until they are wilted.

Add the chicken or vegetable stock to the pot and bring to a boil. Reduce the heat and simmer for 15 - 20 minutes.

Remove the pan from the heat and transfer to a blender, puree until smooth.

Return the soup to the pot and stir in the cream. Season with salt and freshly ground pepper to taste.

Bring the soup back up to a simmer and cook for an additional 5 minutes.

Serve hot with a dollop of sour cream and crusty bread.
Notes
Nutritional properties
Vitamins: A, B, C and K
Minerals: Iron, calcium, phosphorus, potassium, magnesium
Amino acids: Threonine, valine, isoleucine, leucine, phenylalanine, lysine, histidine, methionine
Julia is a writer and landscape consultant from Wollongong with a love of horticulture. She had been an avid gardener for over 30 years, collects rare variegated plants and is a home orchardist. Julia is passionate about learning and sharing her knowledge of plant propagation and plant toxicology. Whether it's giving advice on landscape projects or sharing tips on growing, Julia enjoys helping people make their gardens flourish.