Herbs are a vital component of cooking, imparting their unique flavour in both savoury and sweet dishes. There is nothing more rewarding than hand-picked herbs from your kitchen garden.
All of the plants featured in this article are suitable for pots or planted in the ground, they are easy to care for and versatile.
Rosemary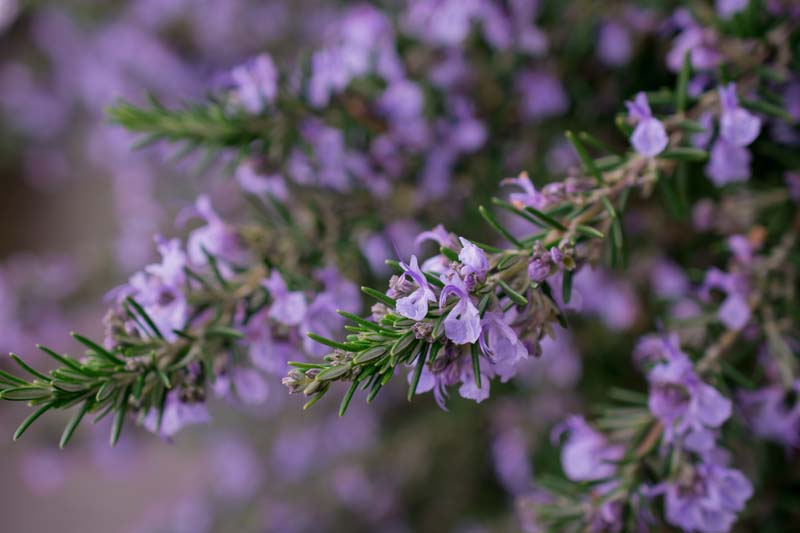 Scientific name: Salvia rosmarinus
Plant type: Shrub
Sunlight: Full sun
Height: 1 metre
Width: 1.2 metres
One of the most well-known herbs, rosemary is an aromatic herbaceous perennial native to the Mediterranean. The needle-like leaves give off a distinctive fresh scent reminiscent of pine. Rosemary is widely used in the perfume and cosmetic industry.

Uses:
Rosemary is used as a seasoning when cooking, especially with roast lamb, but also pairs well with chicken, beef and pork, and potatoes (especially roast), eggplant, carrots, and parsnips. Butters, bread, sorbets, flavoured salts, mixed nuts, teas, vinegar and oils are also great ways to enjoy the scent and taste of rosemary. A sprig of rosemary added to a gin and tonic serves as a garnish and adds a delicate, fresh flavour.
Non-culinary uses for rosemary include candles, melts and soaps.
Known benefits:
Rosemary is a rich source of antioxidants and anti-inflammatory compounds that can help to boost the immune system by neutralising free radicals.
One study found that rosemary essential oil may enhance the cognitive function of patients with Alzheimer's disease and

Care:
Rosemary is one of the easiest plants to grow in the garden and is resistant to almost all pests and diseases. It can be grown in pots or in the ground. Allow plenty of space if you plan to plant it in the ground as it can grow large under the right conditions.
Rosemary likes sandy, well-drained, slightly acidic soil in a sunny position. Water regularly and allow to dry out between watering.
Bay laurel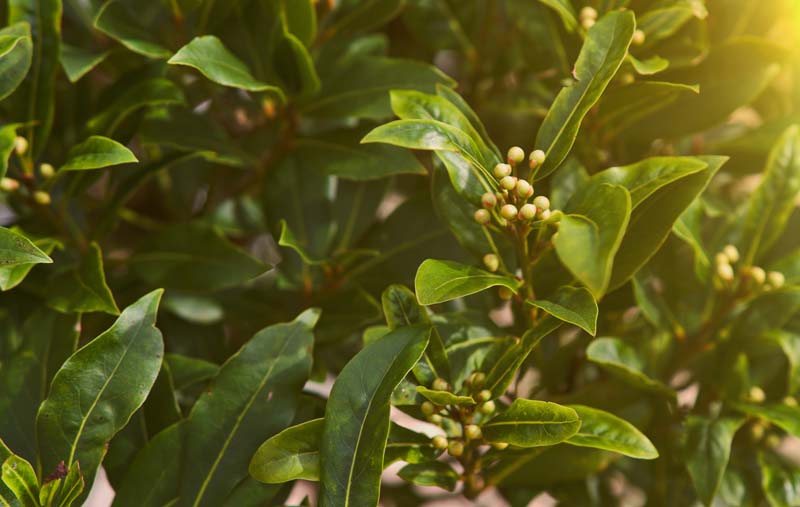 Scientific name: Laurus nobilis
Plant type: Broadleaf evergreen shrub or tree
Sunlight: Full sun to part shade
Height: 4 metres
Width: 2 metres
Bay laurel is an aromatic evergreen tree native to the Mediterranean region. The leaves of bay laurel are commonly used as a food seasoning and are an ingredient in bouquet garni. The attractive leaves make bay laurel an attractive potted plant for outdoor areas. Freshly picked leaves have a slightly bitter taste, when dried, they impart a herbal, menthol flavour.
Uses:
Bay laurel is popular in Mediterranean dishes and is typically removed before serving. Other uses include tea, stuffings, soups and stews. Unlike most herbs, the leaves are used to impart their flavour during the cooking process but are not consumed.
Known benefits:
Bay leaves contain polyphenols, which are antioxidants. One study found that capsules containing 1-3 grams of bay leaf daily lowered blood glucose levels. In traditional medicine, bay leaf is used to treat skin rashes, earaches, and rheumatism
Care:
Bay laurel is a low maintenance plant that can grow in full to partial sun. It prefers chalky, well-drained soil. Water regularly and allow to dry out between watering.
Thyme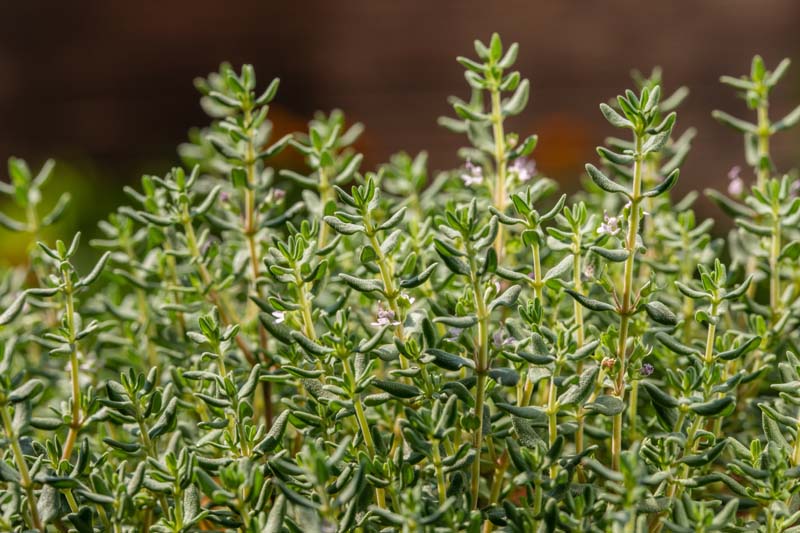 Scientific name: Thymus vulgaris
Plant type: Herbaceous perennial
Sunlight: Full sun
Height: 20 cm
Width: 20 cm
Thyme is a low-growing perennial herb native to the Meditteranean region. The low lying plants are made up of thin, wiry stems, with small, fragrant leaves and an abundance of purple flowers in summer and autumn. Thyme leaves have a fresh, earthy and slightly minty flavour.
The ancient Egyptians used this thyme in the embalming process, along with lavender, peppermint, cedar, rose, almond oil, and aloe. Thyme oil has also been found to be an effective and natural insect repellent and the high thymol content kills bacteria and fungi.
Uses:
Thyme is a highly versatile herb that goes well with all meats and pairs well with winter vegetables. Lemon thyme (T. citriodorus), has a wonderful fresh citrus taste which pairs well with roast pork.
Known benefits:
Thyme oil has been found to be an effective and natural insect repellent and the high thymol content kills bacteria and fungi. A 2006 study found thyme tea reduced coughing compared to a placebo.

Care:
Thyme is a drought-tolerant plant that likes to grow in full sun and well-drained soil. As with other herbs, thyme is susceptible to root rot if overwatered.
Mint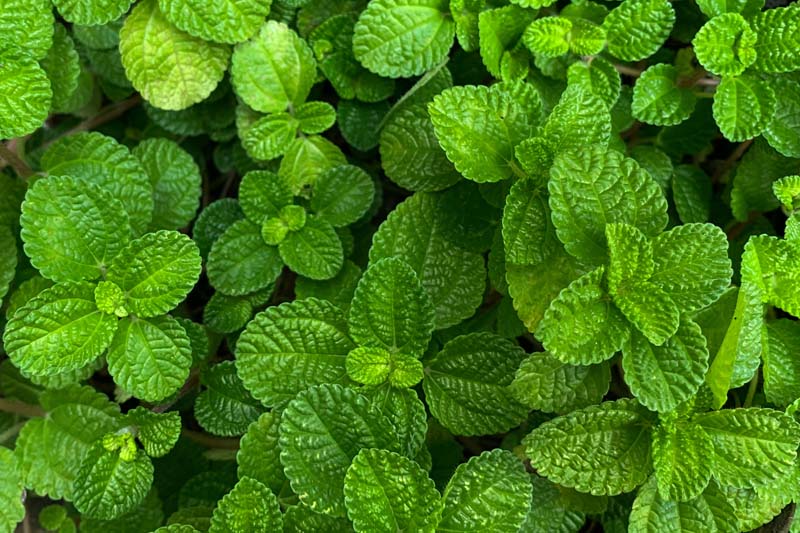 Scientific name: Mentha spp.
Plant type: Perennial, herb
Sunlight: Full sun
Height: 50 cm
Width: 1 metre
Mint is a genus of 25 species of fragrant herbs native to Eurasia, North America, southern Africa, and Australia. The most common variety of mint is peppermint (Mentha × piperita) which as the name suggests, has a fresh, peppermint taste. Other popular varieties are spearmint (Mentha spicata), chocolate mint (Mentha × piperita 'Chocolate Mint') and pineapple mint (Mentha suaveolens).
Uses:
Mint is one of the most versatile herbs in the kitchen garden and pairs well with savoury and sweet dishes. Mint leaves add a freshness to garden salads, and it pairs especially well with watermelon to provide a refreshing summer snack, or mint sauce or jelly as a condiment to roast meats. Other uses include smoothies, pesto, drinks (mint is a major ingredient in mojitos), tea, butter, steamed vegetables and mint raita, an Indian condiment.
Known benefits:
Mint is a good source of vitamin A and is a potent source of antioxidants that help protect the body from oxidative damage from free radicals.
Wild mint (Mentha longifolia) has a long history of use in traditional medicine to treat headaches, digestive disorders, respiratory disorders, fever, intestinal parasites and as an antimicrobial agent.
Care:
Mint is one of the easiest herbs to grow and can rapidly take over if planted directly into the ground. Its preferred location is full sun, but part shade is fine too. When planting in pots, add a rich, premium-quality potting mix and water frequently. Pinch out the top two sets of leaves to promote bushiness.
Kaffir lime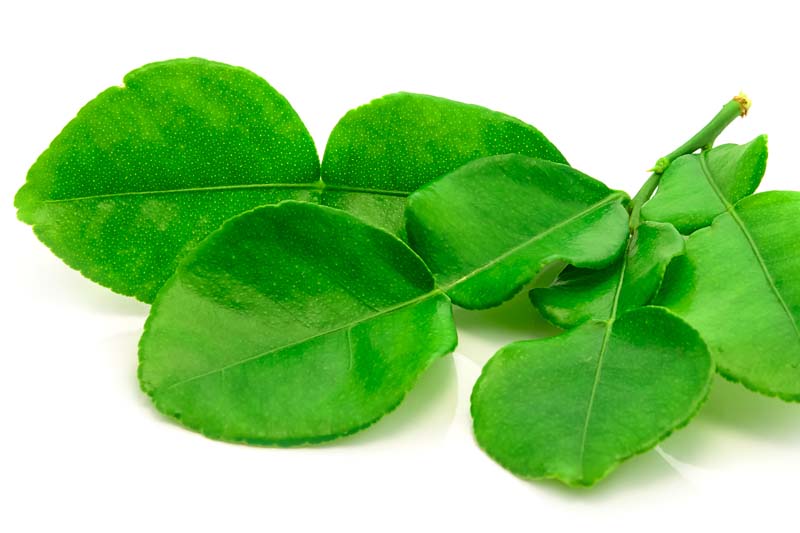 Scientific name: Citrus hystrix
Plant type: Evergreen tree
Sunlight: Full sun
Height: 3 – 5 metres
Width: 1.5 – 2 metres
The kaffir lime is a citrus tree native to India, Southeast Asia and southern China. Unlike most citrus trees, the kaffir lime is cultivated for its aromatic leaves and not for fruit.
Uses:
The finely chopped leaves are added to Thai, Indonesian and Cambodian recipes (for the base paste kroeung) for the strong, citrus flavour. The fruit is edible, but generally not eaten due to its bitter taste, but can be made into marmalade, pickles, syrups or infused into vodka and gin.
Known benefits:
Kaffir lime has been used as herbal medicine to treat heart disease, indigestion, flu, fever, hypertension, abdominal pain and diarrhea in infants. The Malaysians use the fruit to wash their hair, control body odour and kill terrestrial leeches.
Care:
Kaffir lime grows well in the ground or in pots and prefers a full sun position. Water when the top 3 cm of soil has dried out and use a citrus fertiliser four times a year. Kaffir limes prefer a tropical climate with warm summers and dry winters.  Bring inside during the winter months if grown in areas prone to frost.
Julia is a writer and landscape consultant from Wollongong with a love of horticulture. She had been an avid gardener for over 30 years, collects rare variegated plants and is a home orchardist. Julia is passionate about learning and sharing her knowledge of plant propagation and plant toxicology. Whether it's giving advice on landscape projects or sharing tips on growing, Julia enjoys helping people make their gardens flourish.