At a glance      What is coleus?      Care      How to grow coleus     Propagating coleus     Pests and diseases     Toxicity

At a glance
Family

Lamiaceae

Botanical name
Plectranthus scutellarioides syn. Solenostemon scutellarioides
Common names
Painted nettle, Flame nettle, Coleus, Indian borage, Bread and
butter plant, Indian thyme, Country borage, East Indian thyme, Spanish thyme,
Stinging thyme
Plant type
Herb
Lifespan
Perennial, Annual
Soil
Rich, moist, well-drained
Mature height
60 cm-100 cm  (23-39 inches)
Sun exposure
Full sun to moderate shade
Soil pH
Mildly acidic to neutral (6.0 to 7.0)
Leaf colour
Varies
Flower colour
Purple, blue, white
Symbolism
Beauty, good health, growth, tolerance
Toxicity
Mildly toxic to cats, dogs, horses, humans
Toxic properties
Volatile essential oils (coleon O and d

iterpene coleonol

) and irritant sap
What is coleus?
Coleus is a genus of flowering tender perennials native to Malaysia and South East Asia. Its multicoloured, decorative foliage makes it a popular garden and houseplant. Coleus is a member of the mint family and has traditional square stems, sweetly scented tubular flowers and oval-shaped leaves with crenate or lobate margins. The name comes from the Greek word koleos, which means sheath, and refers to the male portions of the flowers.
Coleus was first introduced to Europe in 1951 by Dutch horticulturist Karl Ludwig Blume who found coleus being cultivated in the Dutch colony of Java. During the 19th century, coleus was a hugely popular plant that fetched high prices from plant lovers and collectors. By the early 1900s, popularity dwindled but experienced a resurgence by the 1950s when it became popular as a decorative houseplant. There are currently over 300 species of coleus and 1500 varieties in a rainbow of colours including green, pink, red, orange and yellow.

In the garden, coleus is a flamboyant foliage plant that goes well in both garden beds or containers, offering a beautiful display of colour.

Coleus typically has scalloped leaf margins, but some varieties (known as duck foot coleus), have lobated leaf margins.
Care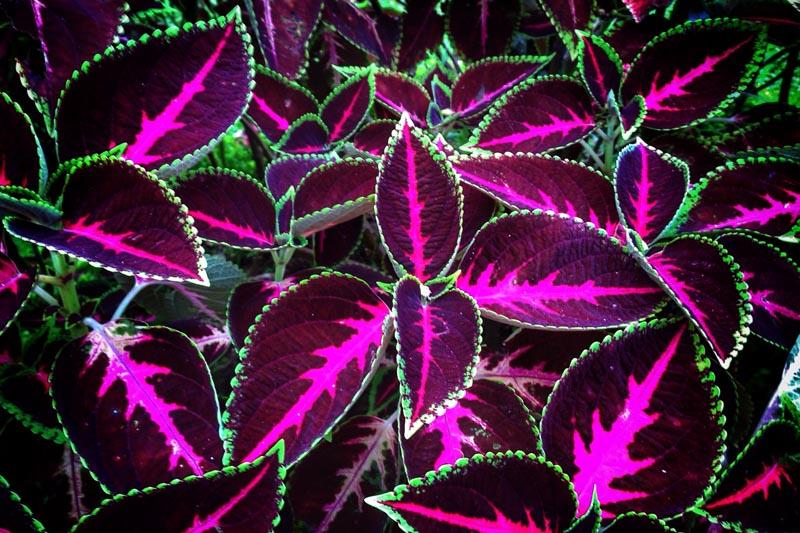 Coleus is an extremely easy-to-care-for plant. In the past, coleus was grown in partial shade, but new varieties grow well in full sun. Most coleus plants grow well in dappled shade or in a spot where it receives morning and afternoon shade. Too little sunlight will lead to less intense leaf colouration and too much sun can cause bleaching of the leaves.
The soil should be moist, but not wet. Coleus will wilt when they are thirsty, but I have found they make a quick recovery once they are watered. As with all plants, water more during the warmer months. If the plant is continually drying out, it is a good indicator that it is time to move to a bigger pot.
Pinching back your coleus will promote a bushier plant and prevent legginess. To do so, use a sharp pair of clean scissors and cut the top two leaf buds.
Gardeners commonly recommend removing the flowers which not only distract from the colourful foliage but cause the plant to lose vigour. This is because they put all of their energy into seed production. I typically leave the flowers on and haven't experienced any issues.
Coleus does not withstand frost and should be placed in a greenhouse or brought inside during the cooler months. Plant out once the risk of frost has passed.
Use a balanced, all-purpose fertiliser every 3-4 weeks during the active growing period. Alternatively, slow-release fertiliser is also suitable.
Related: Heuchera (coral bells)
How to grow coleus
Coleus grows well in garden beds or in plant pots. When growing in beds, mass planting with contrasting coleus colours produces a stunning display.
Bunnings (for Australian readers) sell Coleus in tree form. These interesting specimens are approximately 100 centimetres tall, with a 1-2 cm long trunk, and a ball of leaves at the top. I am sure this look can be achieved at home with careful pruning.
Propagating coleus
Coleus is one of the easiest plants to propagate and has a high success rate. Cuttings can be propagated directly into the soil or placed in water while the roots develop.
Pot method:
Choose a firm stem with healthy leaf growth approximately 7 – 10 cm long
Carefully cut the lower leaves, leaving only the top 2-4 remaining
Once removed, re-cut the stem just below a node, the small swelling on the stem where a leaf attaches
Add some hormone powder (this step isn't necessary)
Fill a small pot with a premium potting mix and using a pencil, make a hole in the soil where the cutting will be placed (never push the cutting in without a hole as this will damage the delicate plant stem)
Gently tap the pot to remove air pockets, and water well
Keep the cutting in a bright spot and do not allow the pot to dry out
The cutting will be ready to plant out in 4-6 weeks
Water method:
Choose a firm stem with healthy leaf growth approximately 7 – 10 cm long
Carefully cut the lower leaves, leaving only the top 2-4 remaining
Once removed, re-cut the stem just below a node, the small swelling on the stem where a leaf attaches
Place the cutting directly into a small glass of water
Roots will be visible within 2-3 weeks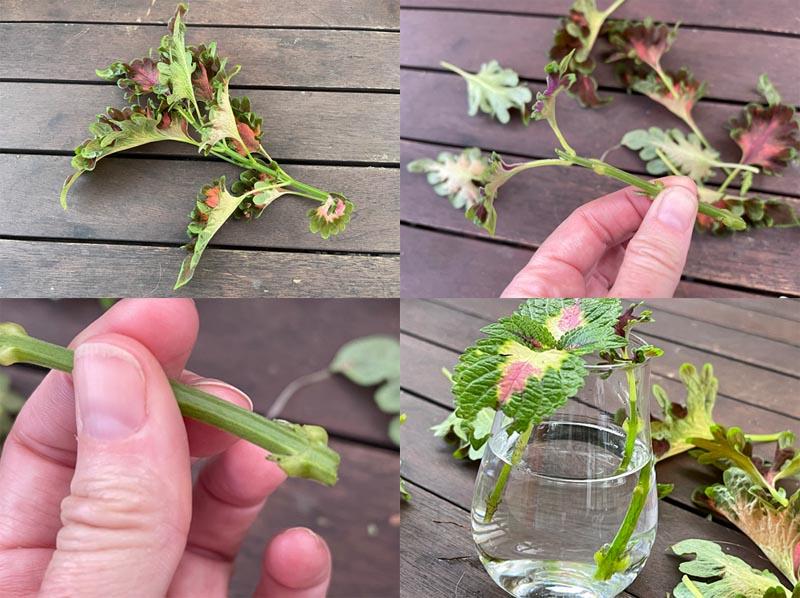 Coleus propagated indoors will need to be hardened off to accustom the cuttings to outdoor conditions and prevent shock. To do this, place the cuttings outside in a sheltered location for a week and protect them from the sun and wind.
Pests and diseases
Root rot (Pythium spp. and Rhizoctonia solani)
Root rot is a common disease caused by Phythium spp. or Rhizoctonia solani which thrive in moist soil. Both pathogens infect fine roots and root hairs, killing them off. The plant will develop yellowing of the leaves, develop stem lesions near the base of the plant, and the normally white roots turn brown and soggy.
Downy mildew (Peronospora spp.)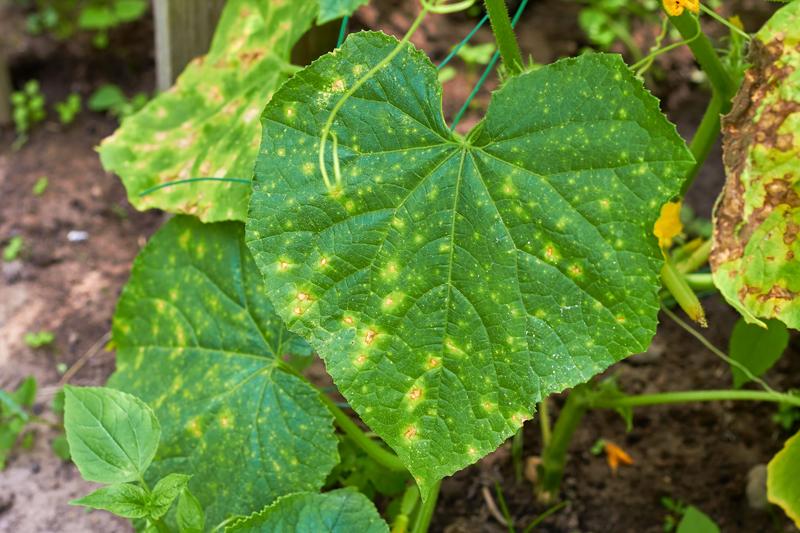 Downy mildew is a disease caused by an oomycete or water mould which is an obligatory parasite that can have a devastating impact on affected plants. Affected leaves have a white, grey or brown soft-looking fuzz, develop a yellow-brown or mottled appearance and become curled or twisted. Plants should be spaced well enough apart to allow air to circulate freely and avoid overhead watering.
If you suspect your plant has downy mildew, remove it, place it in a plastic bag and dispose of it in the garbage to avoid spreading the disease to other plants.
Foliar nematodes (Aphelenchoides)
Parasitic worms that live and move in water films and can be found in inhabit tropical regions.  Almost all above-ground parts of the plant can be affected. Infested plants developed discoloured yellow-brown spots on the leaves, which gradually affect the entire leaf. Seriously affected leaves wither and die. Under moist and humid conditions, the symptoms can rapidly spread up the plant, with new leaves emerging from infested shoots appearing distorted and thickened, and small, malformed flowers.
Toxicity
Coleus is mildly toxic to cats, dogs and people. The toxic principles are volatile essential oils and an irritant sap which can cause gastrointestinal disturbances and mild dermatitis. Ingestion of coleus causes can lead to nausea, vomiting, diarrhea, depression, loss of appetite and contact with the sap can cause contact dermatitis.
Photo gallery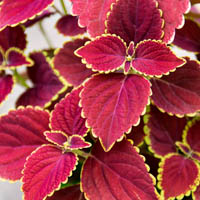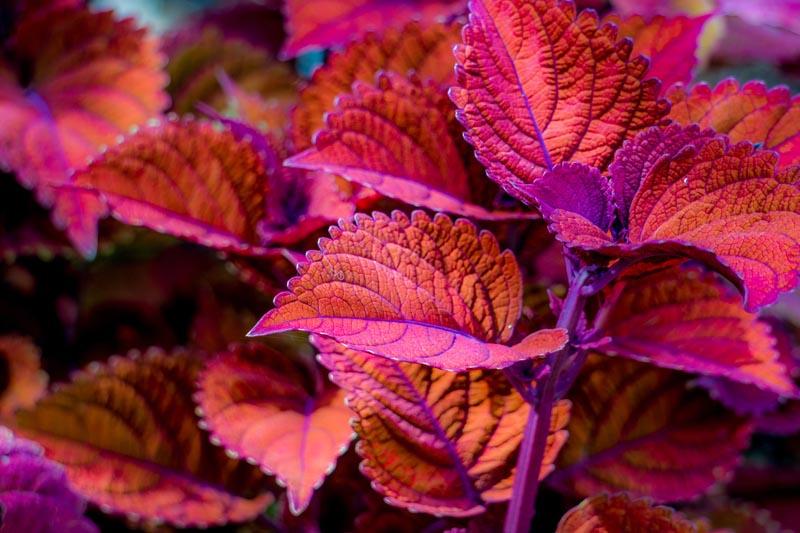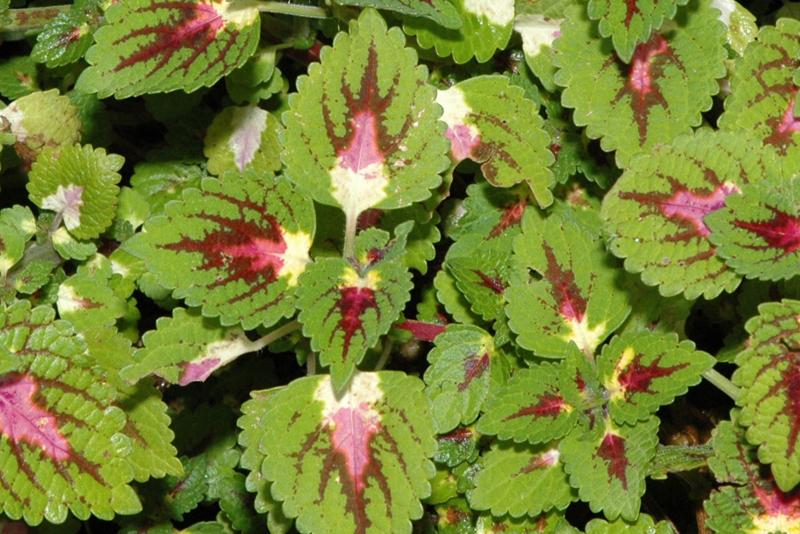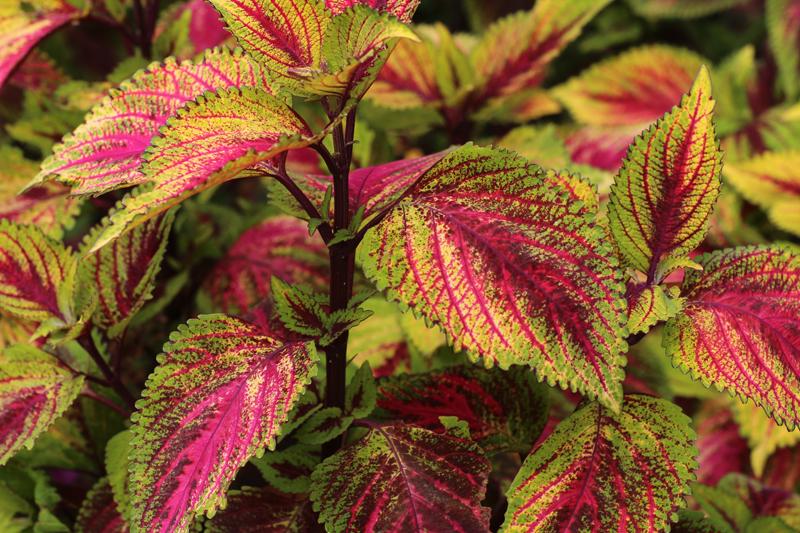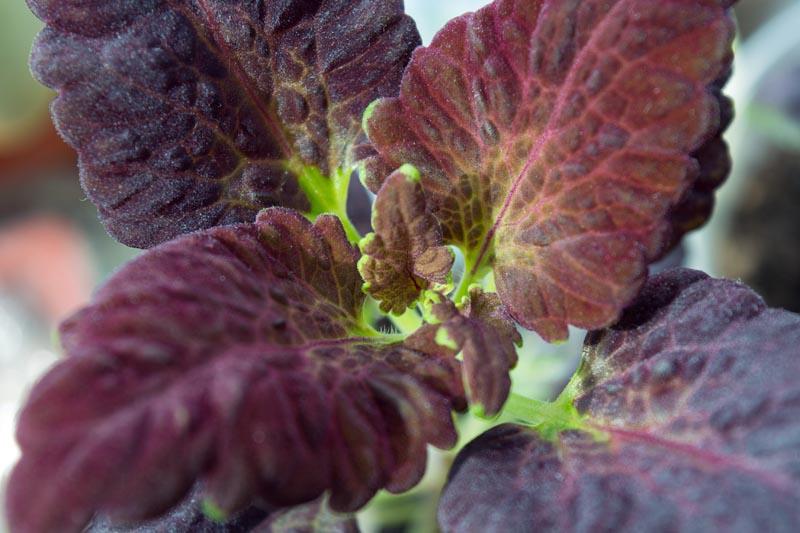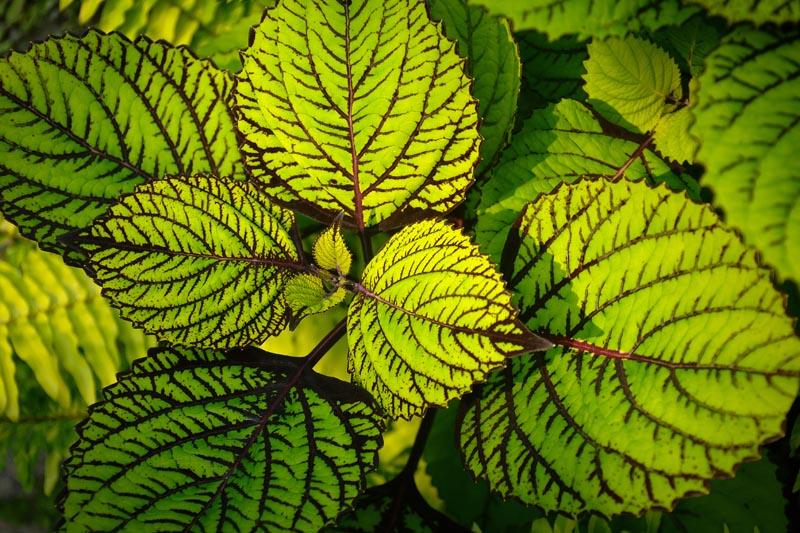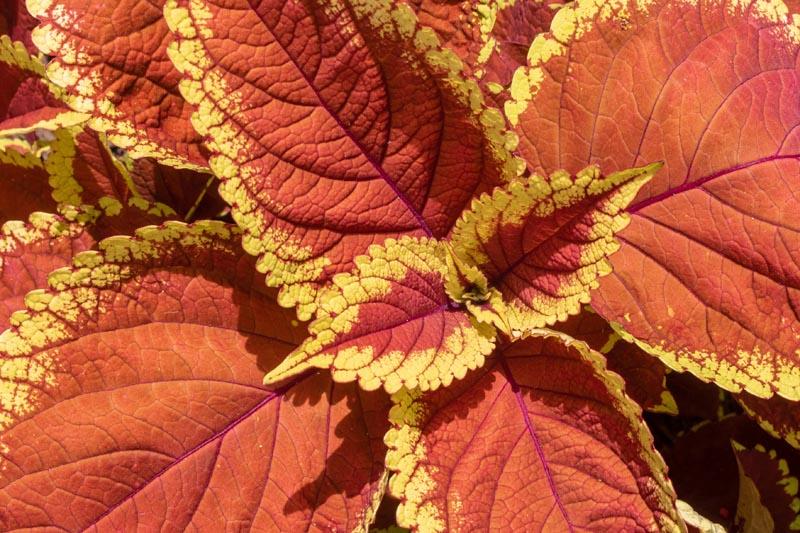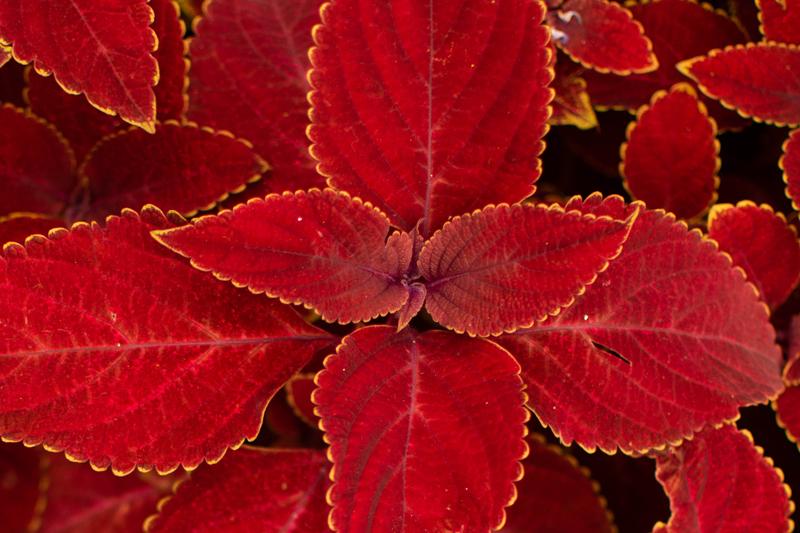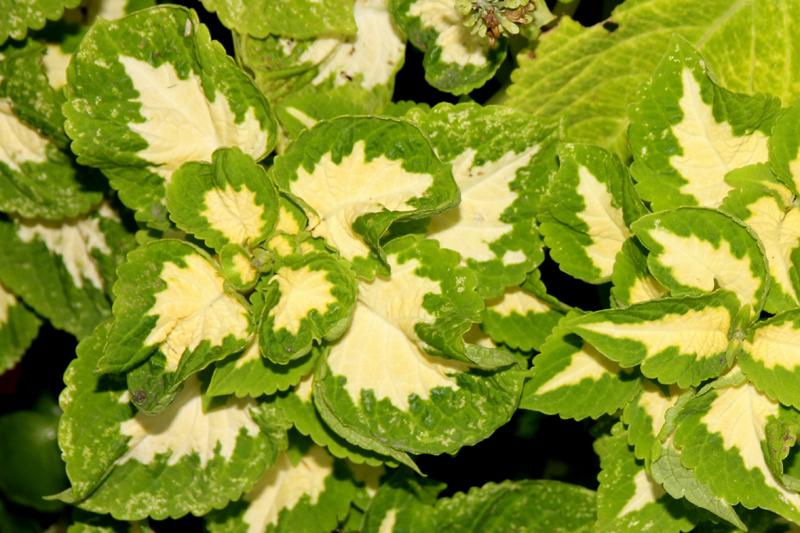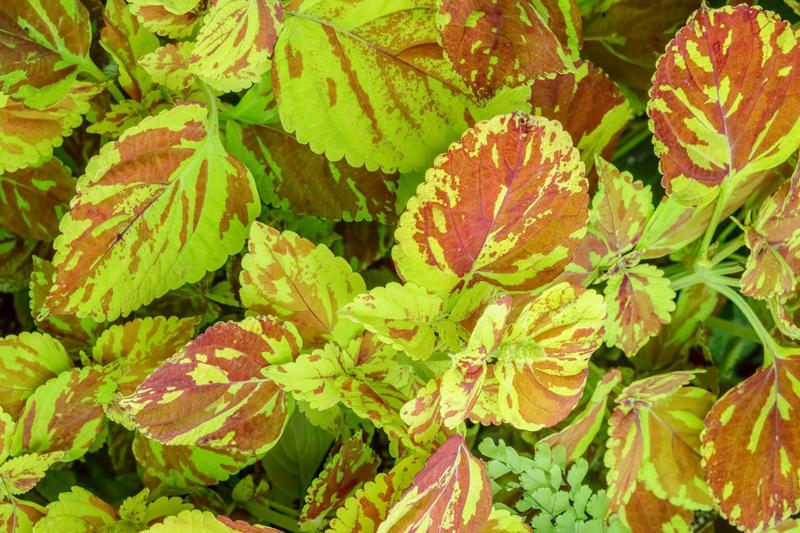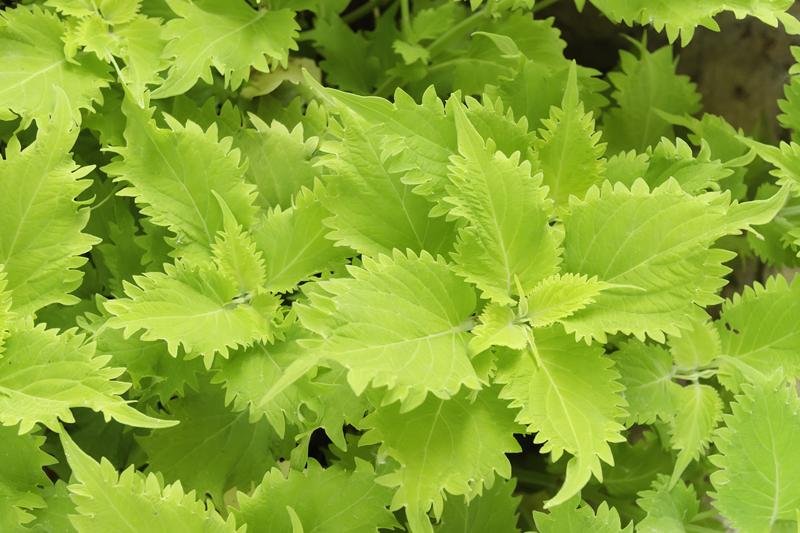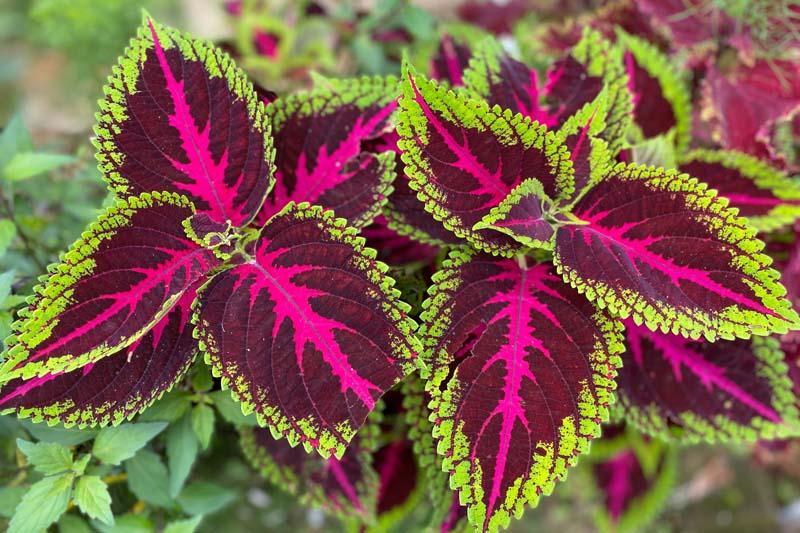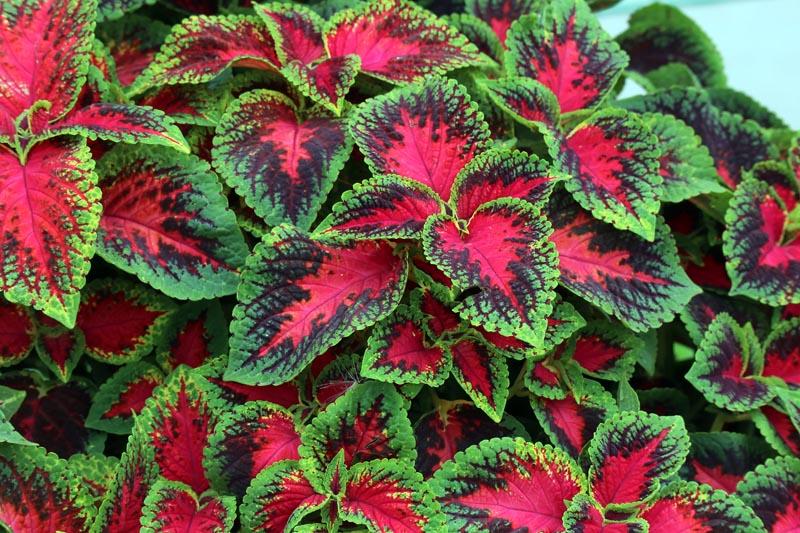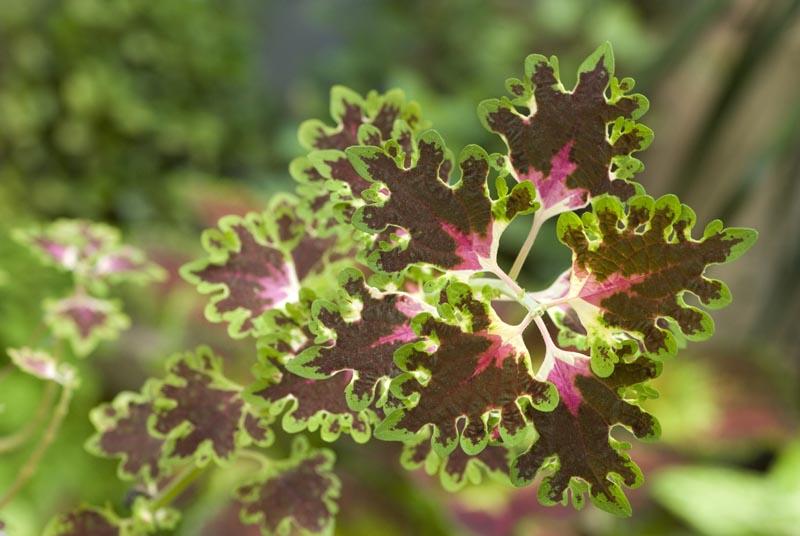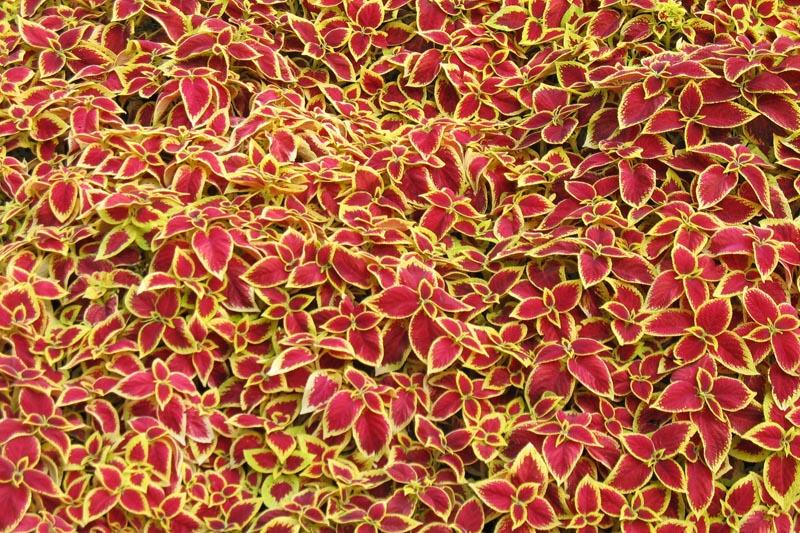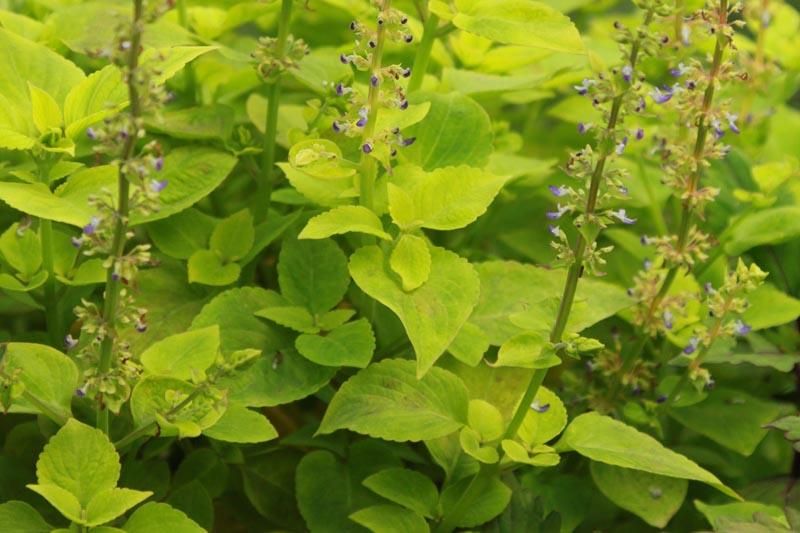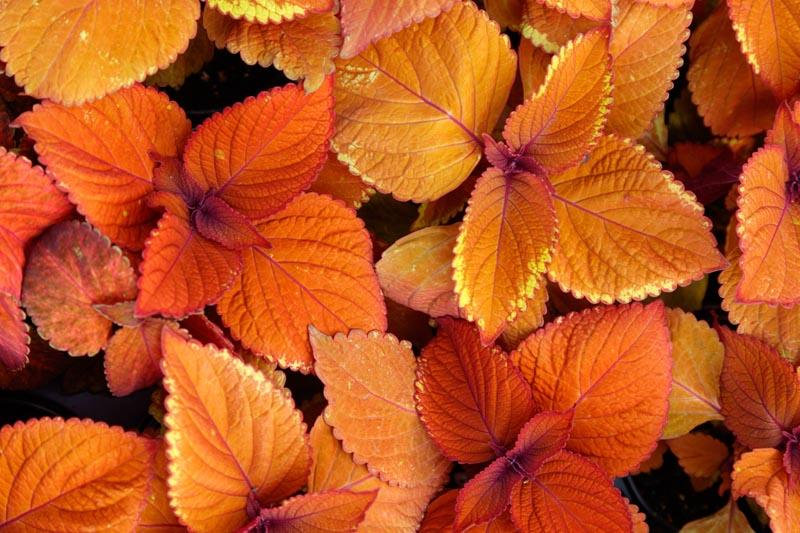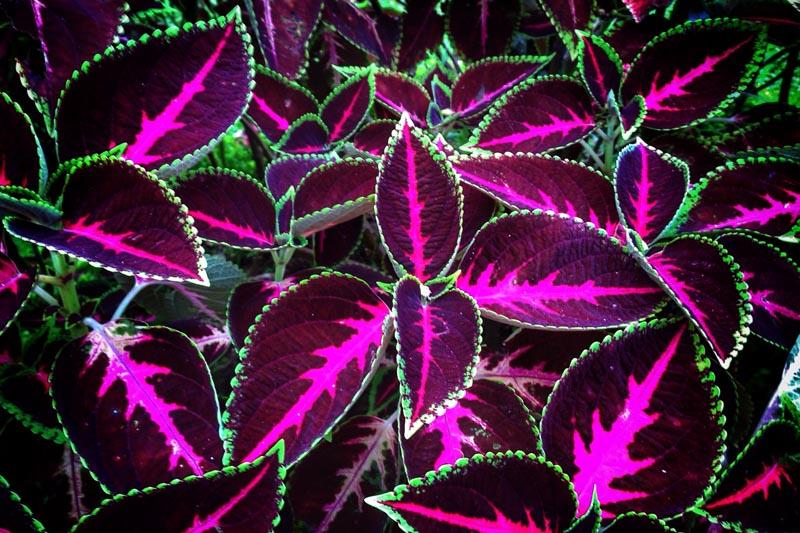 Versa Crimson Gold coleus
Frequently asked questions?
How long do coleus plants live?
This depends on your location, in cooler climates, coleus is grown as annuals. For coleus grown in tropical climates, plants can last for several years.
Is coleus an indoor or outdoor plant?
Coleus can be grown as both an indoor and an outdoor plant. However, coleus prefers warm temperatures and is grown as an annual in cooler climates, or brought inside until the risk of frost has passed.
Do coleus plants bloom?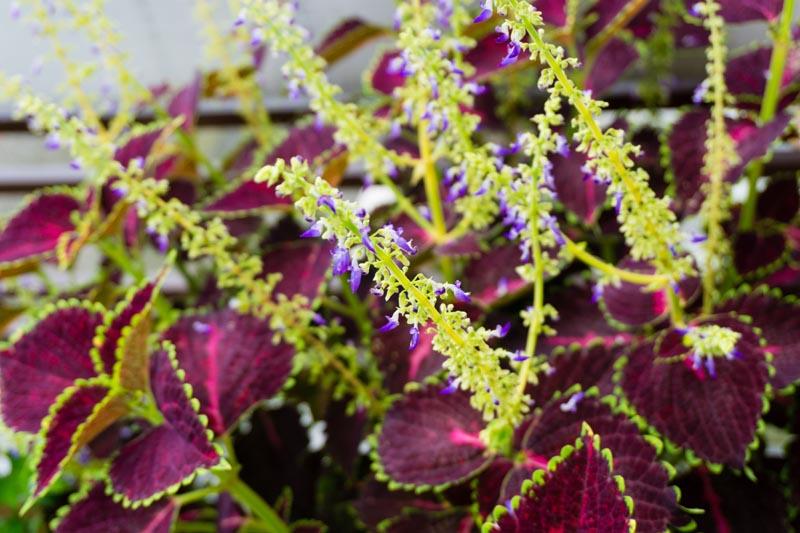 Coleus plants produce white or purple flowers in late autumn, however, most gardeners recommend cutting the flowers off so the plant doesn't focus its energy on seed production.
How to fix a leggy coleus?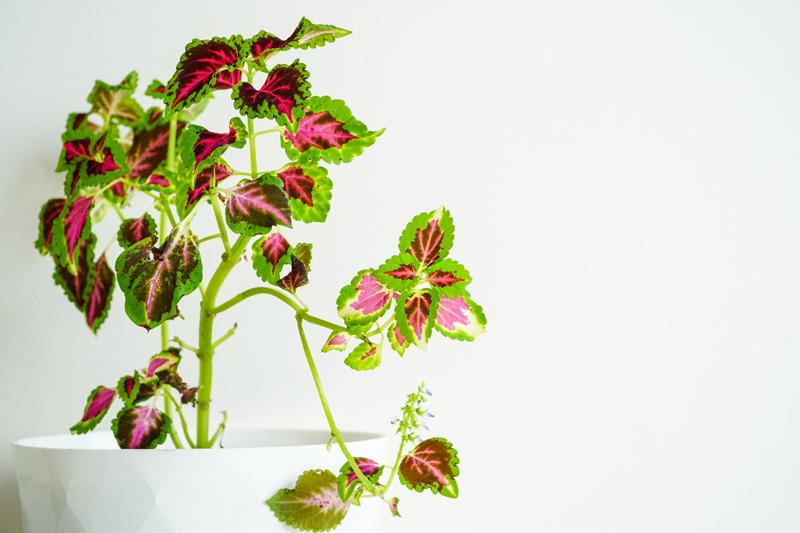 Coleus plants are prone to becoming leggy. The good news is that a hard prune will solve legginess in coleus. Use a sharp, clean pair of scissors or secateurs and prune the plant to the desired height. Coleus can take a hard prune and will bounce back quickly.
Does coleus do better in pots or in the ground?
Some plants can be fussy, especially if grown in pots. My experience is that coleus grows well in pots or in the ground. Potted coleus plants generally require more frequent watering than those grown in the ground.
How to make coleus bushy
Tall coleus can be pruned hard to promote a bushier plant. Smaller coleus should be tipped (pinched), which will cause the plant to grow side shoots, which will make the plant bushier. Always sanitise your hands and equipment before pinching out plants to reduce the risk of infection.
Ensure you pinch the coleus just above the node (marked with a red X in the image below), this will cause the plant to push out side shoots.