Our gardens are a diverse environment that provides a home to microorganisms, insects, and wildlife. Gardeners can harness insects to help keep their plants healthy. Beneficial insects fall into three categories, predators, pollinators and parasiters. Beneficial insects can help keep populations of pests down in the garden and reduce or eliminate the need to use toxic insecticides.
Ladybird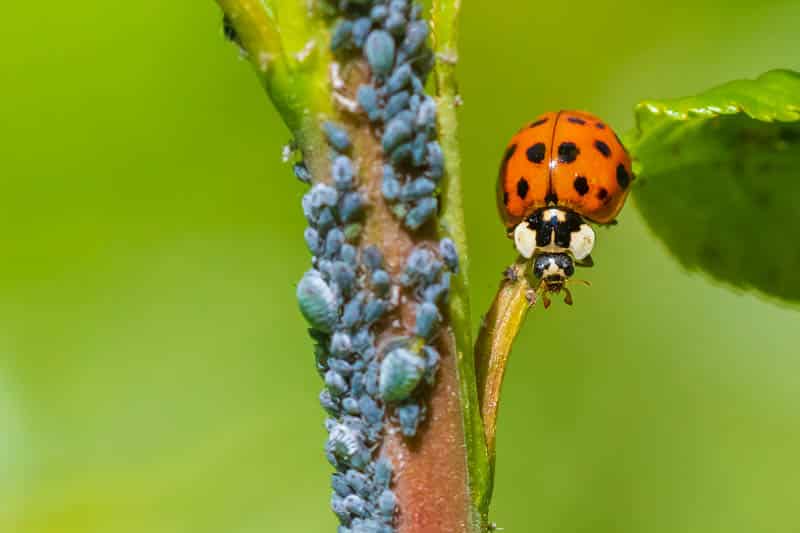 Food

Attracted to

Aphids
Colorado potato beetle larvae
Lace bugs
Mealybugs
Spider mites
Psyllids
Whiteflies and eggs
Caterpillars
Scale insects
Mites
Beetle larvae

Anise
Baccharis
Boltonia
Chamomile
Meadowsweet
Cinquefoil
Wallflower
Coriander
Fennel
Dill
Yarrow
Angelica
Cosmos
Marigold
Statice
Also known as ladybugs, or lady beetles, ladybirds (Coccinellidae) are brightly coloured beetles made up of 6,000 species and found throughout the world.
Ladybirds are predators of aphids, which feed on the sap of plants, which can weaken the plant and stunt its growth. A single ladybird can consume between 20 – 25 aphids in one day. In addition to keeping aphid populations at bay, also need nectar and pollen and pollinate plants as they pick up pollen on their body while feeding and transfer it when they move to a different plant.
Bees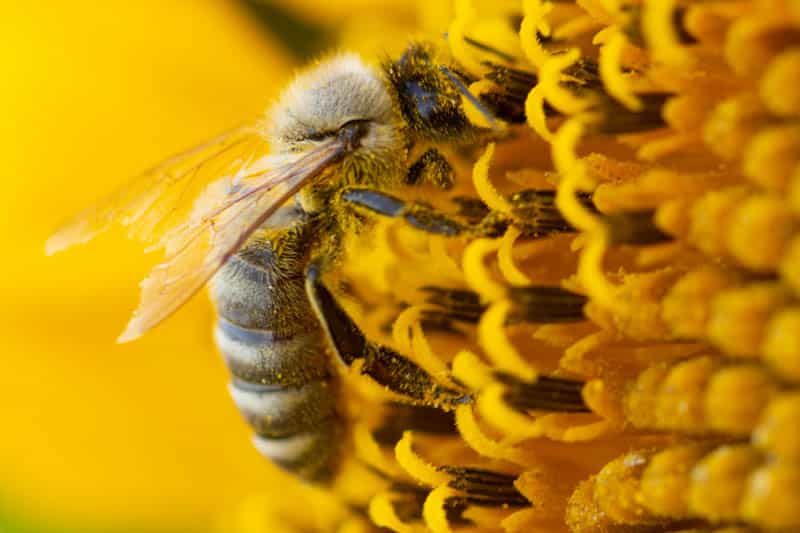 | | |
| --- | --- |
| Food | Attracted to |
| Nectar from flowering plants | |
Most of us know how critical bees are for pollinating plants. In fact, without bees, the human race would face significant challenges in agriculture. Bees feed on the nectar of hundreds of flowering plants every day, as they do, the pollen produced by the stamen (a plant's male reproductive organ) sticks to the hairs on the bee's body. The pollen is then transferred to the pistil (the plant's female reproductive organ), resulting in fertilisation.
Lacewings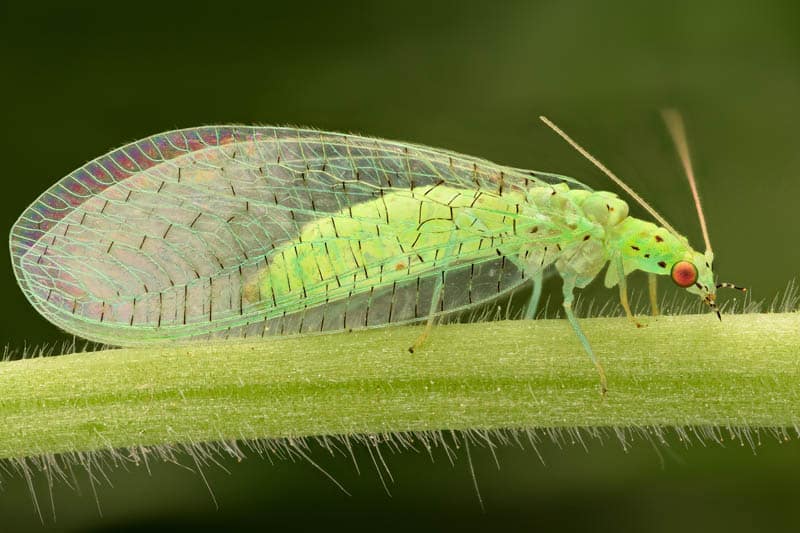 Food

Attracted to

Aphids
Asparagus beetle larvae
Caterpillar eggs
Colorado potato beetle larvae
Corn earworms
Lace bugs
Spider mites
Scale insects
Mites
Mealybugs

Dill
Dandelion
Fennel
Coriander
Cosmos
Mallow
Caraway
Tansy
Golden marguerite
Angelica
Lacewings are predators in the order Neuroptera made up of thousands of species. Adult lacewings lay their eggs, which hatch into larvae who are born with a voracious appetite. Both adult lacewings and larvae consume a wide range of prey.  Larvae have a set of sickle-shaped jaws for puncturing prey, before sucking up the body fluids of their prey.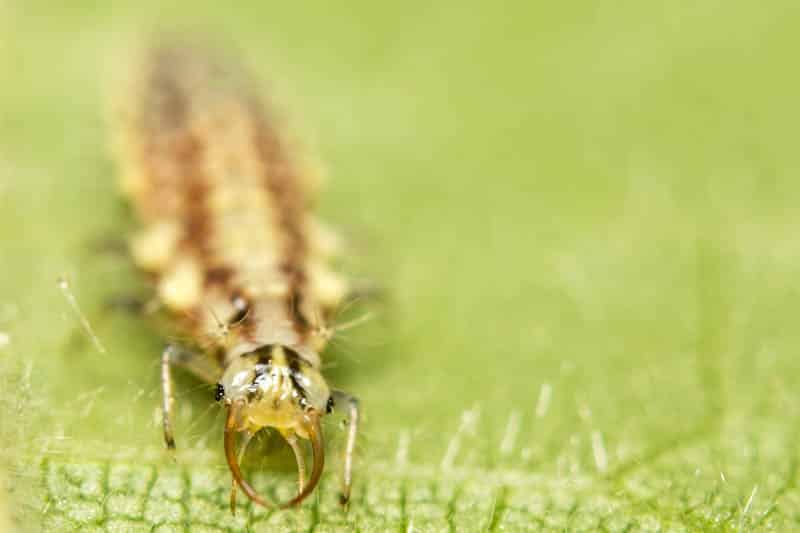 Soldier beetle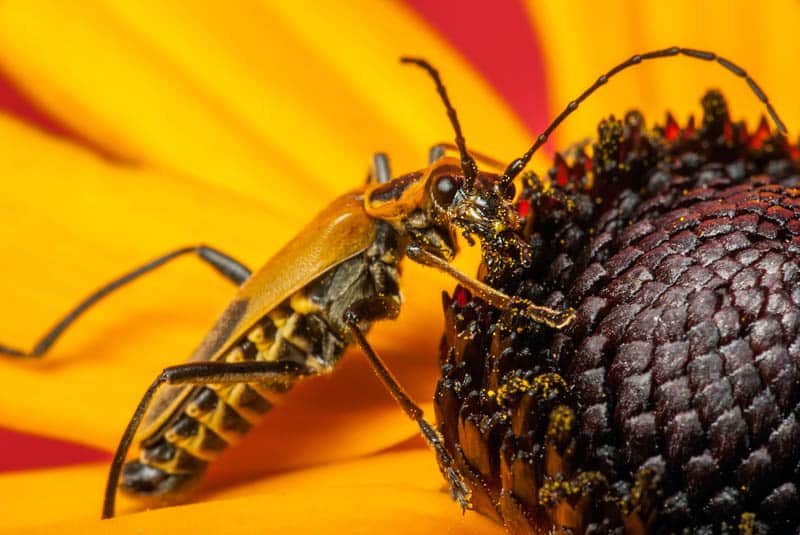 Food

Attracted to

Grasshoppers
Caterpillars
Aphids
Mealybugs
Various insect eggs and larvae

Asters
Black-eyed Susan
Boltonia
Buckwheat
Chamomile
Coriander
Coreopsis
Daisies
Goldenrod
Sunflowers
Also known as leatherwings, the soldier beetle is a predatory beetle belonging to the Cantharidae family. Their brown or yellow wing covers have a leathery appearance (hence the name), and the body is soft and elongated.
Adult soldier beetles are usually seen on flowers, especially yellow ones where they feed on nectar and lay in wait for their next meal. They eat a range of soft-bodied insects including caterpillars, aphids and mealybugs. Adult females lay their eggs in clusters on the ground in autumn (fall). Once hatched, larvae eat a range of soft-bodied insects and eggs.
Big-eyed bugs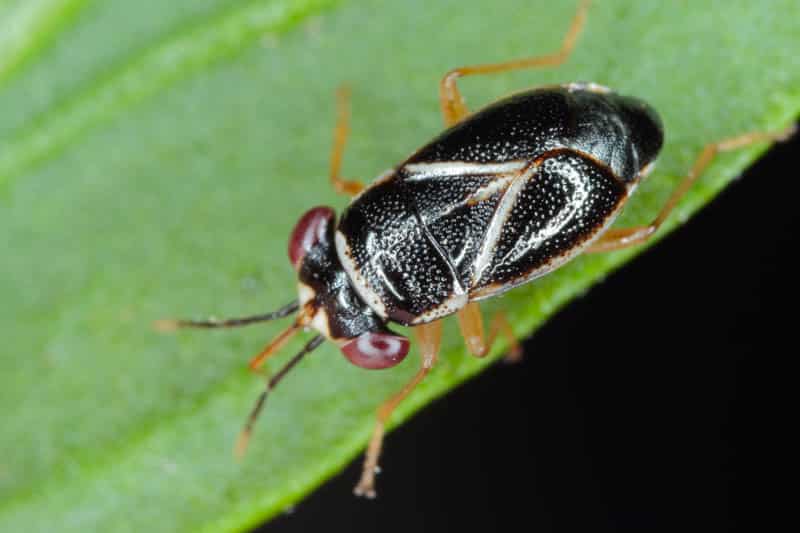 Food

Attracted to

Aphids
Cabbage loopers
Caterpillars
Cabbage worms
Flea beetles
Leafhoppers
Spider mites
Thrips
Whiteflies
Cinch bugs
Insect eggs

Alfalfa
Clover
Angelica
Buckwheat
Caraway
Cosmos
Eriogonum
Laceflower
Sunflowers
Alyssum
Big-eyed bugs are generalist predatory insects of the Geocoridae family. These small insects measure approximately 4 mm in length with sandy, brown or black bodies, broad head and wide-set bulging eyes. Each big-eyed bug can eat dozens of pests per day, making them an extremely beneficial insect. Both the nymphs and adults are protein eaters, using a sharp beak to inject digestive enzymes into their prey before sucking up the digested contents of their prey. In the absence of protein meals, big-eyed bugs will feed on the nectar, sap and small seeds of plants.
Praying mantid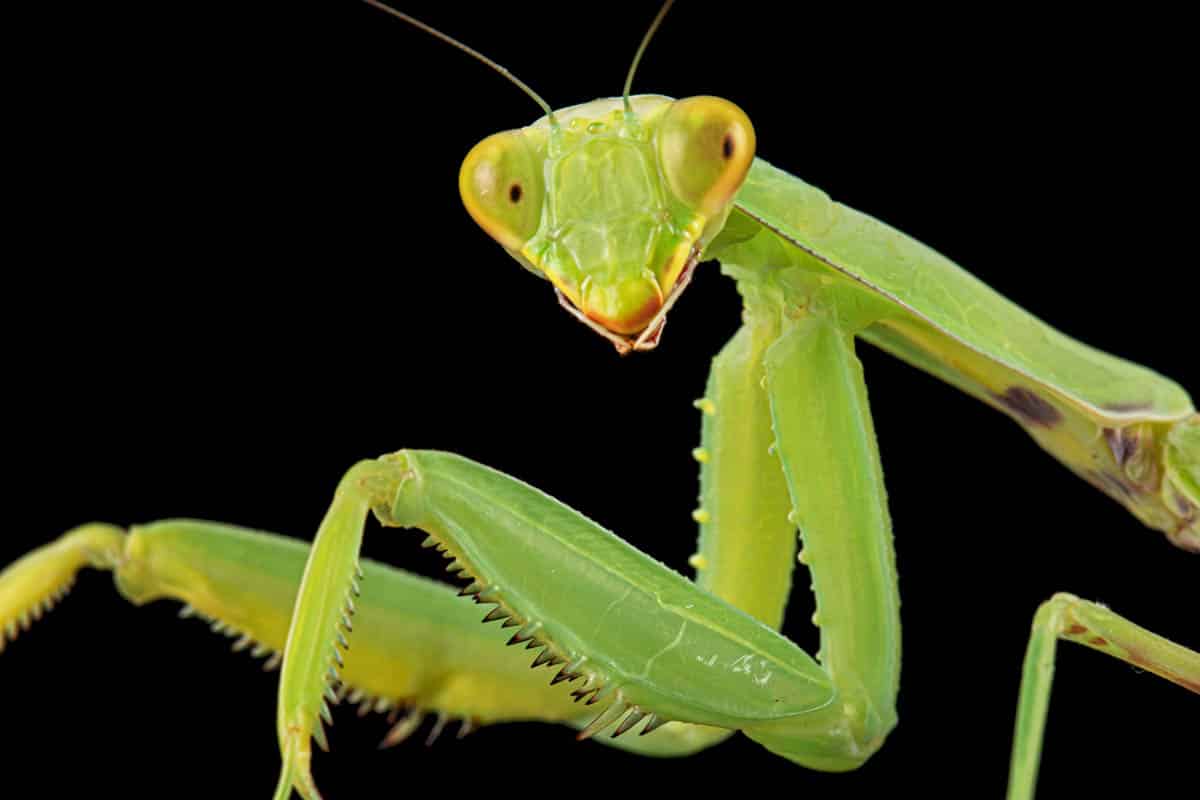 Food

Attracted to

Flies
Crickets
Grasshoppers
Beetles
Caterpillars

Shrubbery with branches and foliage they can hide their eggs on
Named for its prayer-like stance, the praying mantid is a predatory insect that ranges in size from 5 to 12 cm in length with a characteristic triangle-shaped head and large compound eyes. Their diet consists of smaller insects, which they consume with their powerful mandibles (mouthparts).
Dragonflies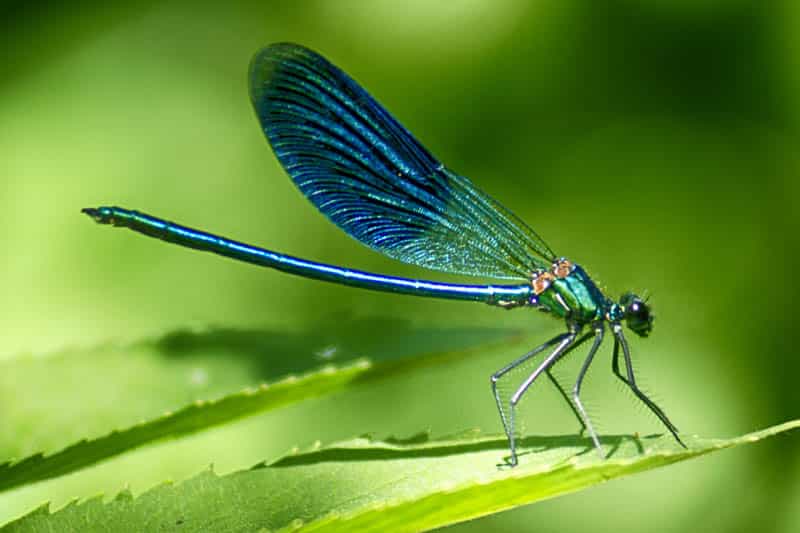 Food

Attracted to

Mosquitoes
Beetles
Ants
Moths
Wasps

No particular flowers, females require a water source to lay her eggs
One of the most beautiful predatory insects in the garden, the dragonfly is made up of 26 families and 5,000 species which can reach up to 12 cm in length. Dragonflies are stealth predators, which they catch mid-flight, consuming their prey using the teeth from their lower jaw. The carnivorous naiads (dragonfly larvae) develop at the bottom of streams, ponds, creeks and rivers, feeding on tadpoles, snails and mosquito larvae.
Assassin bugs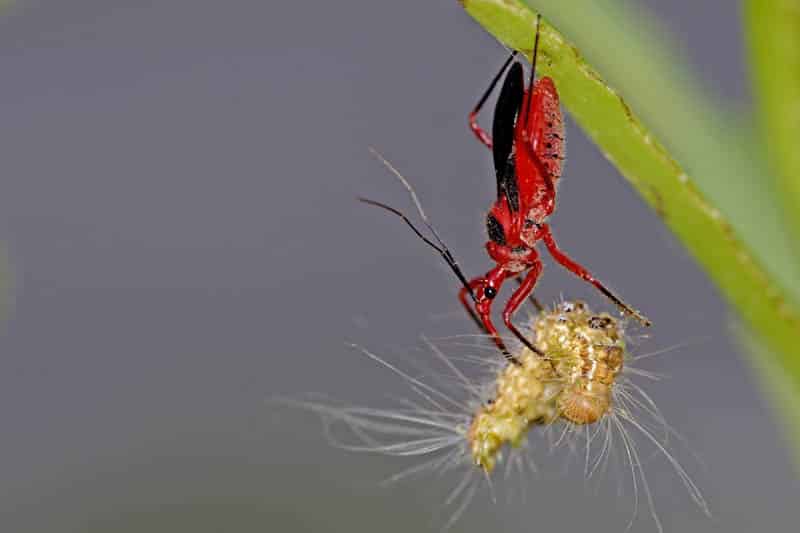 Food

Attracted to

Hornworms
Colorado potato beetle
Leafhopper
Cucumber beetles
Aphids
Caterpillars
Assassin bugs are predatory insects that belong to the family Reduviidae), made up of 7,000 species. Their name comes from the fact that they remain motionless while their prey passes by before stabbing them with their rostrum (sharp, curved mouthparts). Digestive enzymes are injected into the prey which liquefies their insides, allowing the assassin bug to suck up the contents.
The female assassin bug lays her eggs on plants, and the resulting nymphs transition through several stages before reaching maturity.
Fireflies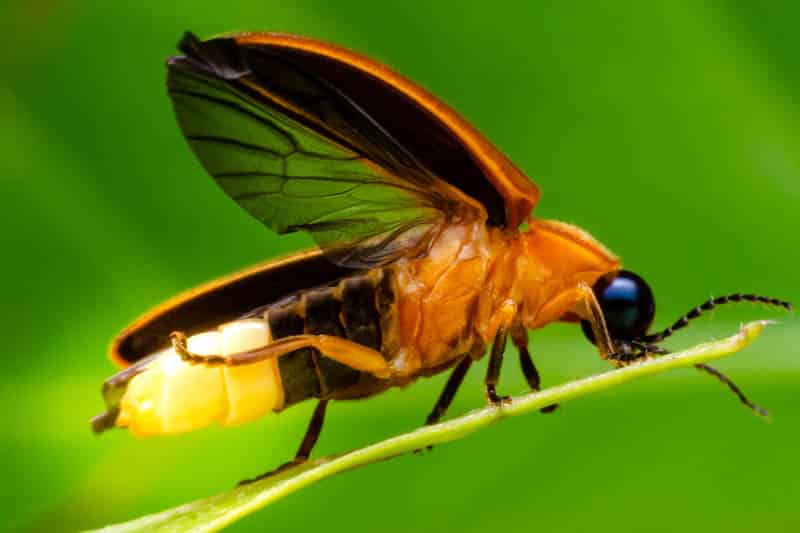 Food

Attracted to

Snails
Slugs
Insect eggs and larvae
Worms

No particular flowers, females prefer wet soil for egg laying
Also known as lightning bugs, fireflies are members of the Lampyridae family with over 2,000 species worldwide. They are most well known for their bioluminescent abdomen which attracts mates. Despite the name, fireflies aren't flies at all, they are actually beetles.
Larval fireflies live on the ground and consume slugs, snails, earthworms and insect larvae. They capture their prey, injecting it with a paralytic substance before consuming it. It can take up to two years for firefly larvae to metamorphose into adults. Adult fireflies mostly eat pollen and nectar and only live for two months, mating, and laying their eggs in moist areas near ponds, streams and leaf litter.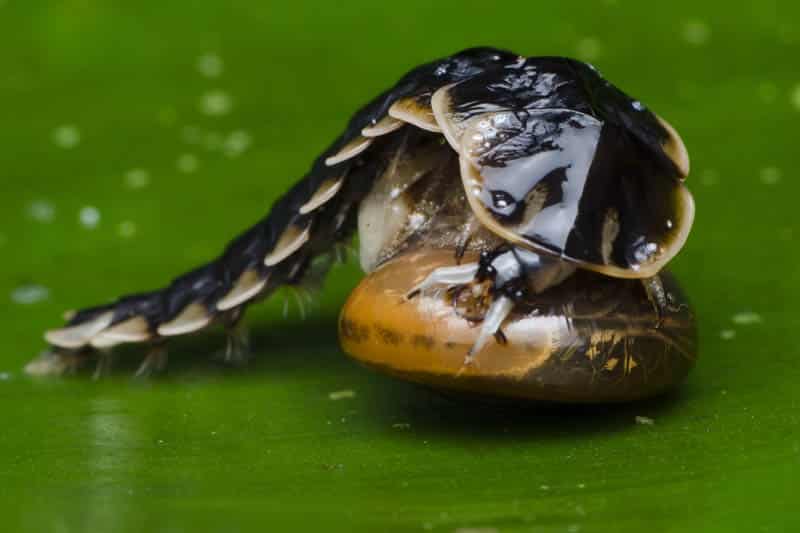 Attracting beneficial insects to the garden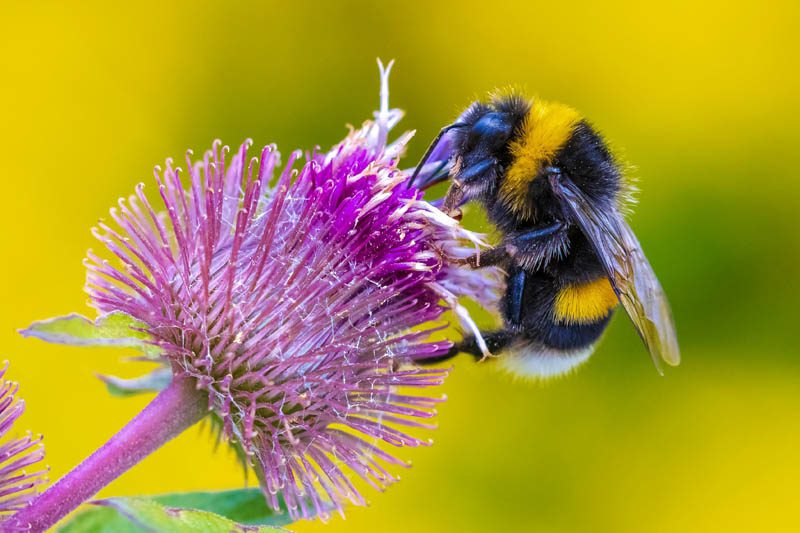 Flowers are one of the easiest ways to attract beneficial insects to the garden. Grow a wide variety of flowers to ensure you have blooms year-round.
Companion planting plays an important role in the management of harmful insects and bugs in the garden. There are several benefits to companion planting, including saving space, fixing nitrogen, and emitting odours that deter certain pests. Intercropping is a form of companion planting in which different types of plants are interspersed with each other which breaks up the concentration of plant populations, can divert pests and increase overall yield. For example, growing climbing plants with ground cover beneath them.
Cover cropping increases the diversity of helpful insects by providing pollen, nectar and habitat for beneficial insects.
Incorporating herbs and flowers into the vegetable garden is not only visually attractive by adding colour, but flowers and herbs provide nectar sources as well as provide fresh herbs for the kitchen.
Julia is a writer and landscape consultant from Wollongong with a love of horticulture. She had been an avid gardener for over 30 years, collects rare variegated plants and is a home orchardist. Julia is passionate about learning and sharing her knowledge of plant propagation and plant toxicology. Whether it's giving advice on landscape projects or sharing tips on growing, Julia enjoys helping people make their gardens flourish.